The best cheap business class flights to Kuala Lumpur from London we found for a client in the past month were for an amazing £3,248 return. To get today's best price simply complete the form on this page and we'll get back to you quicker than you can say "Petronas Towers".
Flight time from London to Kuala Lumpur: 12 hours 30 minutes
Airlines with Business Class Flights to Kuala Lumpur from London:: British Airways, Malaysia Airlines
Airports in Kuala Lumpur: Kuala Lumpur International, Kuala Lumpur LCCT.
Distance from London to Kuala Lumpur: 6,561 miles
Business Class flights to Kuala Lumpur
Both British Airways and Malaysia Airlines offer non-stop flights from London to Kuala Lumpur. British Airways utilises the Boeing 787 Dreamliner on the route, while Malaysia Airlines operates the route with a combination of A350s and A380s.
When flying with British Airways you'll be able to fast track through security so you can head straight to the Galleries Lounge at Heathrow. You'll also be able to claim a free treatment at the Elemis Travel Spa so you're left feeling relaxed and pampered before you board the plane. Onboard the aircraft your seat reclines into a fully flat bed and is equipped with a power socket, USB ports and a 10.4 inch entertainment screen loaded with TV shows and movies. Bedding is provided by luxury brand The White Company and includes luxury pillows and a duvet.
If flying Business Class with Malaysia Airlines you can take advantage of the airline's chef-on-call service, which allows you to pre-book your meal up to 24 hours before your flight. At Heathrow airport the carrier has its own lounge called The Golden Lounge, where you can freshen up with a quick shower, grab some food, chill on the sofas and use the free wifi.
The Business Class seats on Malaysia Airlines recline to become fully flat and are equipped with individual 17-inch in-flight entertainment screens. The airline is known for producing excellent in-flight food, with chicken satay being the speciality.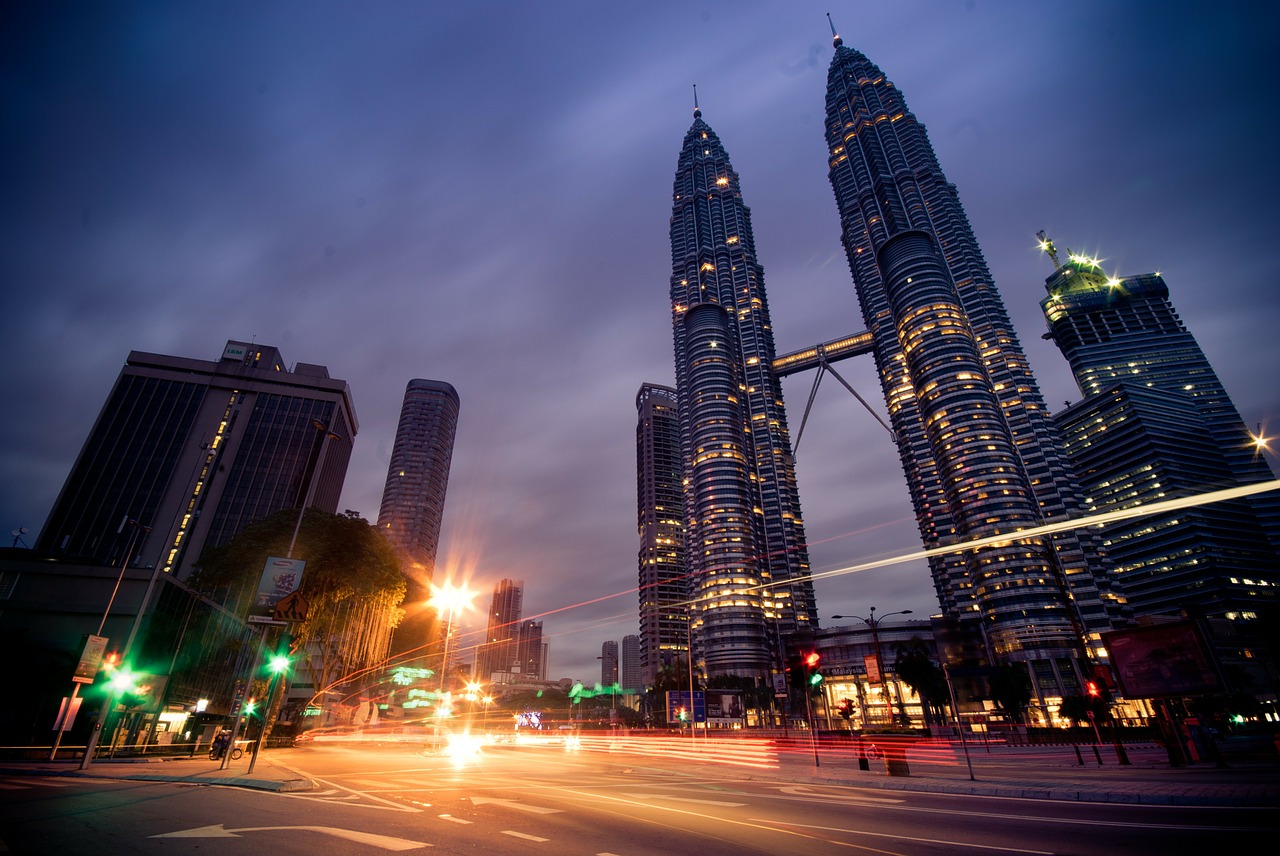 Business Class Flights to Kuala Lumpur, Getting to and from the Airport
Metered taxis are available at level 1 and 3 of the Main Terminal Building. They are charged at RM3.00 for the first 1 KM or first 3 minutes, then RM0.10 for each consequent 115 metres or 21 seconds. There's an additional 50% surcharge between midnight and 6am.
Airport limo and pre-booked taxi services are also available – these operate through a coupon system that you purchase at Airport Limo counters in arrivals. Alternatively you can catch the Express Coach from the airport to KL Sentral – the price for an adult is RM10.00 one way or RM18.00 for a round trip.
Where to stay in Kuala Lumpur
The Grand Hyatt Kuala Lumpur boasts contemporary rooms and suites with floor-to-ceiling windows – some even offer stunning views of the Petronas Towers. The rooms are some of the largest in the city and the suites are big enough to get lost in. The pricier rooms include access to a dedicated Grand Club lounge offering daily continental breakfast, all-day light refreshments, evening drinks and canapés.
If you prefer something more traditional, The Majestic Hotel is housed in a colonial heritage building that was built in 1932. The original Hotel Majestic was an icon of Malaysia's boom years prior to World War II – a glamorous hotel known that played host to social events and government receptions. Today the hotel boasts 47 luxurious suites that exude old world elegance and vintage charm, yet are filled with modern features and furnishings.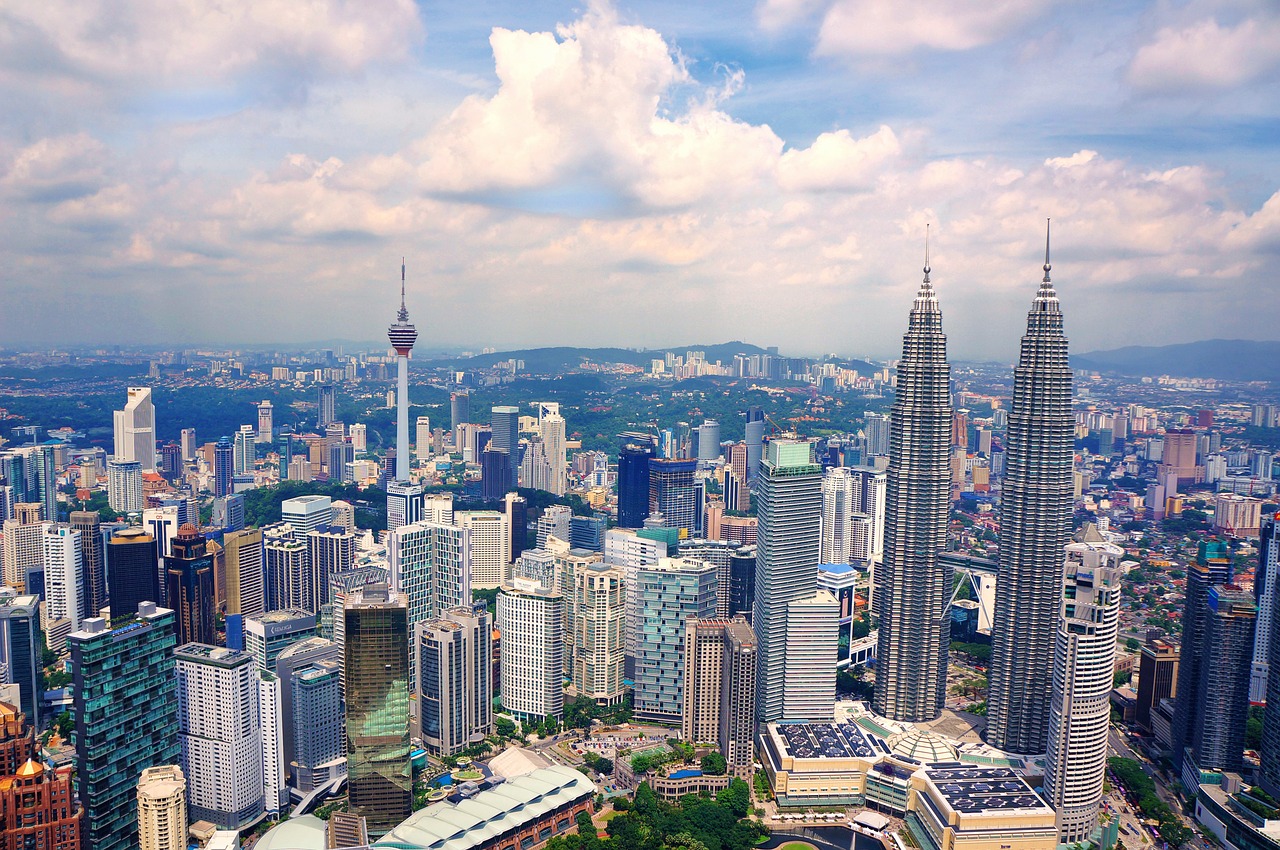 Things to do in Kuala Lumpur
Kuala Lumpur is Malaysia's capital city –  an urban metropolis filled with steel-clad skyscrapers, large shopping malls, lush parks and historic buildings. Perhaps the biggest draw of KL though is the delicious food, so don't miss the chance to visit some of the hawker centres and try the local delicacies. Here are some places we recommend visiting:
Petronas Towers – The 451m-tall Petronas Twin Towers dominate the skyline in Kuala Lumpur and look beautiful when lit up at night. The towers have a skybridge and observation deck, where you can snap photos of the cityscape below.
Batu Caves – The Batu Caves is a limestone hill comprising three major caves and a number of smaller ones. You'll have to climb quite a few steps to get to the top, but it's definitely worth it as the caves are impressive.
Jalan Alor – Jalan Alor is a famous food street lined with cheap food stalls serving up all sorts of unique Malaysian dishes such as chicken satay and Nasi Lemak. Everything is pretty quiet during the daytime but after dark things really come alive. Don't expect anything fancy – the restaurants are very basic with plastic tables and chairs, but the food is ridiculously good.
Genting Highlands – Genting Highlands is a hill resort located 45 minutes away from Kuala Lumpur, perched 1800 metres above sea level, boasting a Vegas-style casino as well as shopping outlets and indoor and outdoor theme parks.
Business Class Flights to Kuala Lumpur, Practical Information
British nationals don't need a visa to visit Malaysia. You will normally be given permission to stay for 3 months on arrival – just make sure you have at least 6 months left on your passport before you go. The temperature is hot and tropical, so expect temperatures of around 27 degrees Celsius all year round. Kuala Lumpur can experience bursts of heavy rain showers though, so it's worth packing an umbrella or raincoat.
We will find you special, discounted fares that are not available online. So, by the time you take your business class flights to Kuala Lumpur, you'll feel happy knowing that you've paid less than the person seated nearest to you! Have a great trip and – if you want to save money – please book with SkyClub.
Further Reading: