The best cheap business class flights to Bali we found for a client last month cost £2,365 for a return ticket. Find the best deal on flights today by completing the form on the left of this page. We'll get back to you faster than you can say Beaches, Yoga and Meditation.
Flight time from London to Bali: 15 hours 35 minutes
Airlines with Business Class Flights to Bali from London: Multiple one-stop connections
Airports in Bali: Denpasar Ngurah Rai International Airport
Distance from London to Bali: 7771 miles
Business Class flights to Bali
There are currently no direct flights from the UK to Bali, although there are flights available with one-stop connections on multiple airlines. Airlines flying from London to Bali include Singapore Airlines (via Singapore), Malaysia Airlines (via Kuala Lumpur), Emirates (via Dubai), Qatar Airways (via Doha), THAI (via Bangkok) and Garuda Indonesia (via Soekarno–Hatta International Airport).
Singapore Airlines is the most popular airline for flying from London to Bali; the airline offers one of the shortest flight times at 16 hours 25 minutes. Passengers can catch an A380 flight from London Heathrow to Singapore Changi before catching an onward A330 flight to Bali. Singapore Airlines' Business Class seats vary depending on the type of aircraft you're flying on but you can rest assured that they are some of the largest in their class. When you're ready to sleep the seats convert into fully flat beds complete with with linen, duvet and pillows, or if you prefer to stay awake, you can watch entertainment on your own personal 18-inch entertainment screen. The airline also offers a "Book the Cook" service, enabling passengers to choose their main meal up to 24 hours before the flight.
Consistently voted one of the world's best Business Class airlines, Emirates offers an A380 service from London to Dubai, followed by a 777 service from Dubai to Bali. A highlight of flying on the Emirates A380 is the onboard bar, where First and Business Class passengers can relax and mingle over cocktails and nibbles. Meals are served on Royal Doulton bone china and the amenity kits contain Bulgari fragrances and luxury skincare essentials.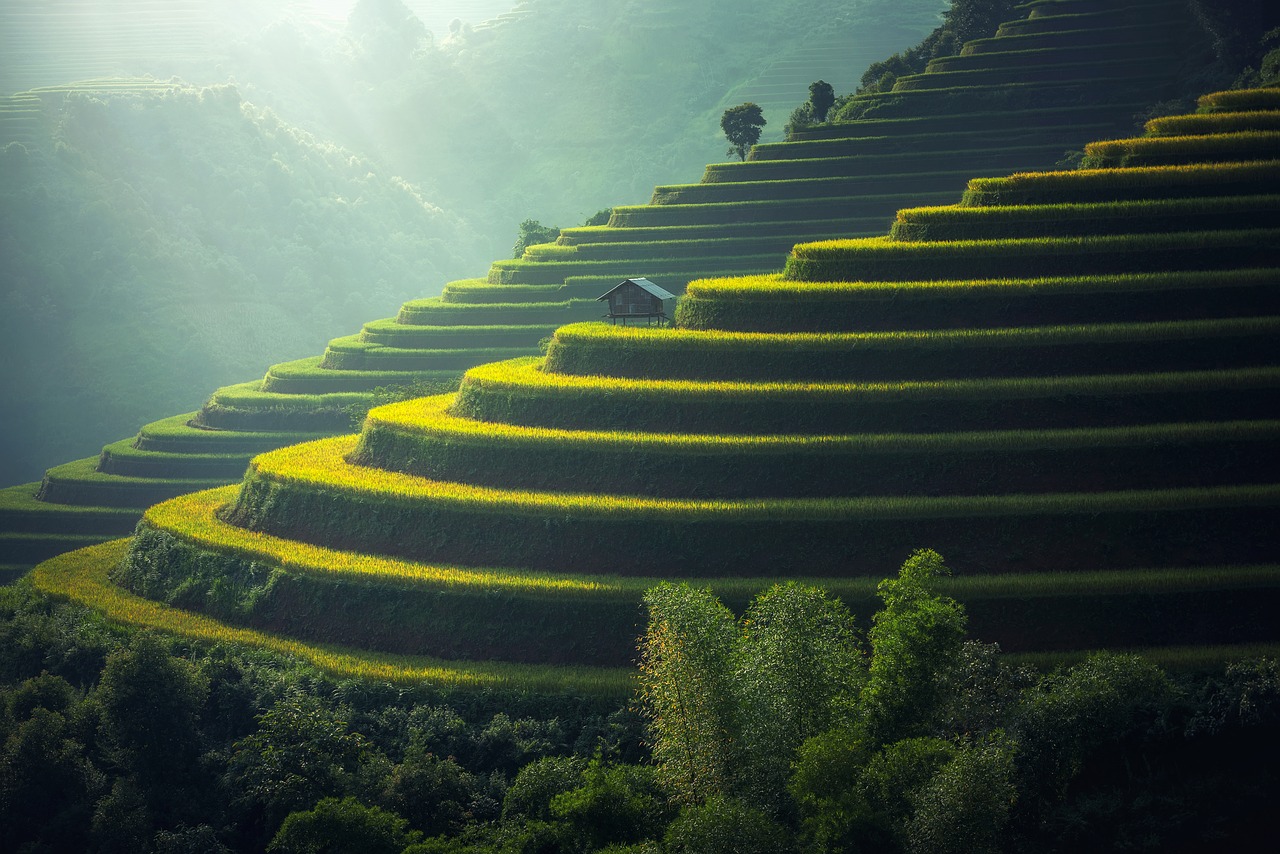 Getting to and from the airport
Public transportation is pretty much non-existent in Bali so you'll need to catch a taxi from Ngurah Rai International airport to your accommodation. Either book private transportation with your hotel or hail a cab from outside arrivals; prices cost roughly 45,000 Rupiah to Kuta, 60,000 Rupiah to Seminyak and 95,000 Rupiah to Nusa Dua.
Where to stay in Bali
Bali boasts various resorts with each offering something a little bit different. If you want to see the beautiful green rice fields depicted in the movie "Eat Pray Love" then you'll want to stay in Ubud, the island's cultural centre. COMO Uma Ubud is a luxury retreat nestled amid rice paddies and backed by coconut palms and banyan trees – the ideal place to switch off from reality and unwind. The hotel boasts 46 rooms, suites and villas along with a beautiful outdoor swimming pool and holistic spa.
If you prefer to be located by the beach and within walking distance to the island's best restaurants, Seminyak is the best place to go. The town boasts plenty of upscale hotels and beach clubs where you can enjoy cocktails in the sunshine. The Oberoi is a 5-star resort situated right on the beach and set amongst fifteen acres of tropical gardens dotted with ancient Balinese temples. Rooms and suites have beautiful views of the Indian Ocean and the hotel's tropical garden.
Things to do in Bali
Known for being one of the best surfing destinations in the world, Bali is a magical island with every kind of surf from crashing waves to perfect reef breaks. The island has something for everyone too; yogis will love Ubud's yoga retreats and healthy juice bars, while beach bums will be spoilt for choice when it comes to sunbathing options. Aside from relaxation, Bali has a fascinating culture and many attractions to visit, including:
Sacred Monkey Forest – This nature reserve and Hindu temple complex is inhabited by Balinese long-tail monkeys and tourists love to have their photos taken with them. Park staff feed the monkeys daily but bananas are also for sale should you wish to feed them.
Tanah Lot – This stunning religious complex sits on a giant rock that juts out of the ocean and can only be reached at low tide. Don't forget to bring your camera as the views at sunset are unforgettable.
Uluwatu temple – Another stunning temple, Uluwatu temple is perched on a cliff overlooking the ocean and is popular for sunset visits, when Balinese dancers perform the famous "Barong dance". The temple is inhabited by monkeys although visitors should be careful as they will try to steal hats, sunglasses, food and other items.
White Sand Beach, Padangbai – Easily the best beach on the island, White Sand Beach may be a little out of the way on the east coast of the island, but it's certainly worth the visit. Many of the beaches on the rest of the island have dark or black sand but not here – the sand is powdery white.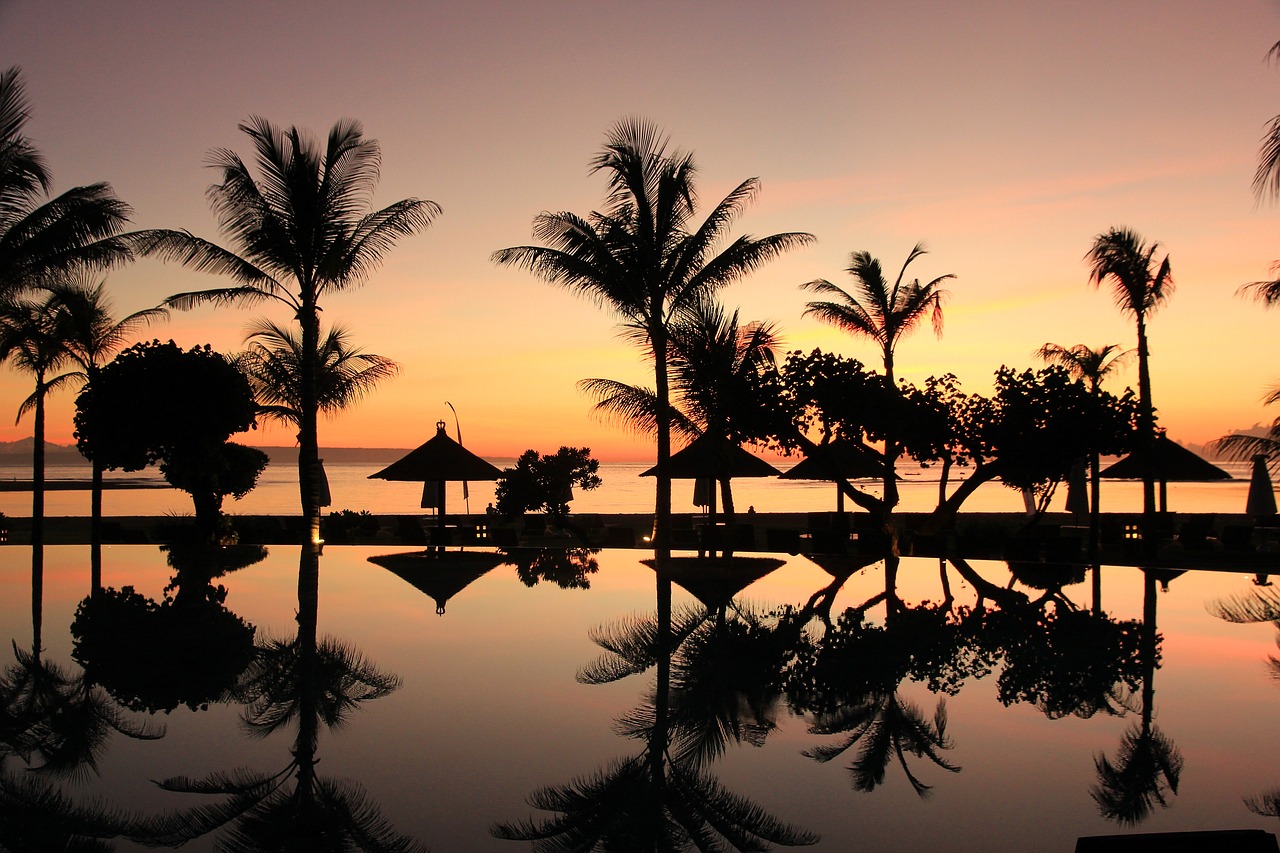 Practical Information
While Bali experiences year-round warmth and sunshine, the island does have a rainy season between October to April, so if you travel during this period you'll want to carry an umbrella or plastic poncho just in case of any unexpected downpours. The best months to visit are May to September, when the weather tends to be dry, sunny and less humid.
If you're a British citizen travelling to Indonesia you don't need a visa for visits under 30 days. For visits longer than this you should apply for a visa before you travel or get a visa on arrival for $35. The visa on arrival is valid for 30 days and can be extended once, for another 30 days, by applying to an immigration office in Indonesia.
To get the best cheap Business Class flights to Bali, simply complete the form on this page or call 0044 207 255 1234 to speak with one of SkyClub's fast and friendly experts.
We will find you special, discounted fares that are not available online. So, by the time you take your business class flights to Bali, you'll feel happy knowing that you've paid less than the people seated nearest to you! Have a great trip and – if you want to save money – please book with SkyClub.
Further reading: