Business Class Flights to Dallas
Long known as the financial centre of Texas, Dallas has been at the centre of this state's oil and cattle-driving industries for many years.
While it also served as the backdrop for a salacious 80's TV drama of the same name, the city is perhaps best known in infamy for being the place where President Kennedy was gunned down in cold blood by Lee Harvey Oswald.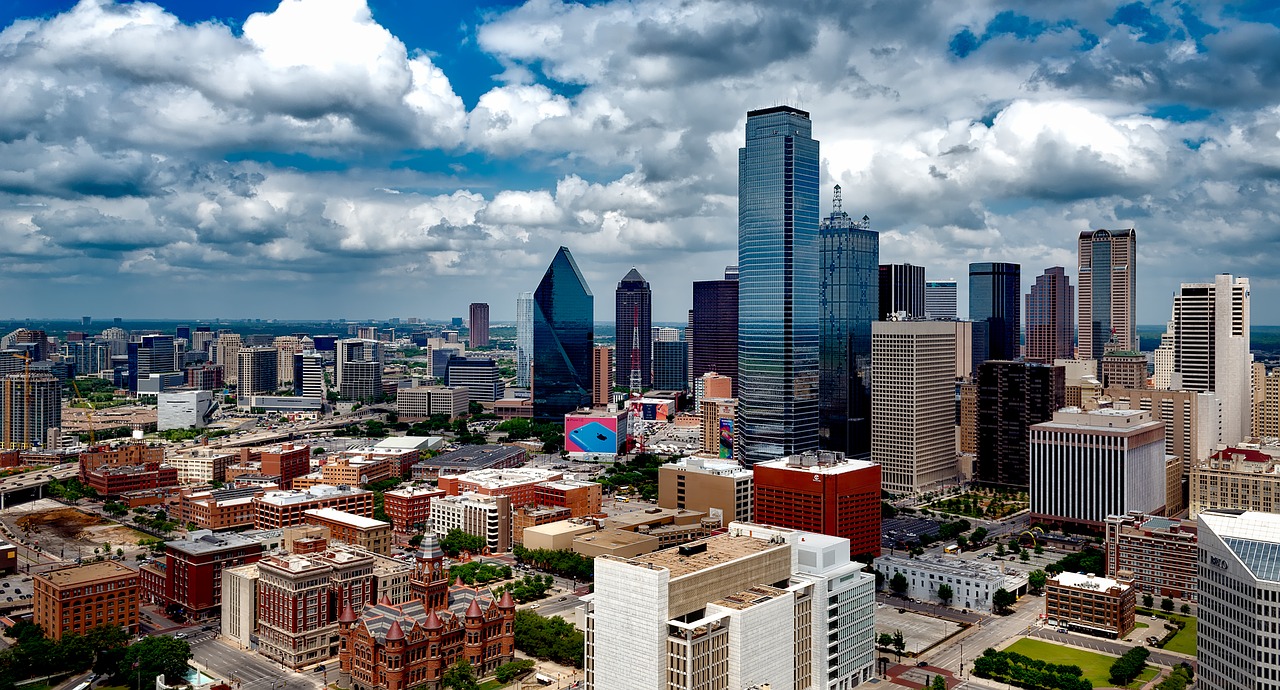 In this guide, we will outline how you can experience this city like an oil baron, right from the moment you leave home.
Which airlines fly to Dallas from London?
As of February 2017, two airlines fly non-stop routes from London to Dallas – British Airways and American Airines – although American Airlines tends to be the more popular choice. The journey time is roughly 10 hours and 10 minutes, covering a distance of 4,756 miles.
Direct flights land at Dallas-Fort Worth, although you can also catch indirect flights to Dallas Love Field with Delta.
British Airways
British Airways flies a 747 from London to Dallas, which means you will be able to enjoy your business class flight on its upper deck, which is completely separate from economy below. Meals aboard draw from a wide variety of British and American favourites, but if your hunger returns shortly afterwards, the Club Kitchen offers plenty of snacks that include nuts, fruit, chips and many other options, along with a selection of drinks, both alcoholic and non-alcoholic in origin.
American Airlines
American makes use of a Boeing 777-300 on its London to Dallas route, which means the seats are arranged in a reverse herringbone pattern. This means that the seats in business class arranged in a manner that creates the impression of space, a feature which will be well-loved by introverts. If you need to get work done in-flight, internet can be purchased for the duration of the flight for only $19. If you are like us, though, you'll probably want to kick back and watch one of the many movies and TV shows available on American's extensive entertainment system.
Dallas Airports
Business travellers flying to Dallas will be able to enter the Dallas/Fort Worth area from a choice of two major airports – Love Field and Dallas-Fort Worth International Airport. Love Field is located northwest of the downtown area and is slightly more restricted in terms of departures and arrivals. It is closer to the downtown area but typically requires a connection if flying from further overseas. Dallas-Fort Worth International airport, however, is the busiest airport and one of the largest in the country. Business travellers can book flights which operate directly from UK airports including London Heathrow, Manchester, Newcastle, Edinburgh and Glasgow to Dallas-Fort Worth International and Love Field.
What facilities are available at Dallas Fort Worth Airport?
There are numerous lounges available in Dallas Fort Worth Airport, but only some are universally accessible by all travellers. The British Airways Executive Club Lounge can only guarantee access to business and first class travellers that have valid tickets on that airline, although it appears that Finnair and Iberia business class passengers may be able to access the lounge in Dallas as well; call ahead for details. As for other options, American Airlines offers the Admiral's Club as a compliment to their business class travellers, while other fliers can access this lounge for $59.
United Club and Delta Sky Club also offers the general public day pass access for $59. Additionally, Minute Suites offers a great place to catch up on work and sleep, while The Centurion Lounge offers a luxurious environment for American Express Platinum card holders to unwind after a long flight across the Atlantic. Regular Amex holders can buy access for $50; we recommend taking advantage of this if you have this card in your wallet, as many reviewers laud this branch of The Centurion as one of most lavish lounges in the USA.
How to get around
The average taxi fare from DFW Airport to downtown Dallas will cost you around $40. If you don't mind meeting new people, catching a Shared Ride shuttle will cost you $30 for most destinations within a 20 mile radius of the airport. Once you are situated, moving about can be done by taking a DART train from one part of town to another. With four lines, the city centre is well covered by public transit.
The most convenient and reliable method of navigating around the city is to use a car. There are an abundance of petrol stations around the city, ensuring that either rental or chauffeur cars will have no trouble finding fuel. During rush hours the arterial roads and highways can experience high volumes of traffic – the busiest times of the day are usually 7.30am to 9am and after 4.30pm until 6pm. It is recommended that GPS and electronic mapping services are used for easy navigation around the city and regular updates on traffic jams and road works.
Where to stay
If you're looking to spend less on your accommodation than your flight, you can still realise value for money by booking a stay at the Homewood Suites by Hilton in downtown Dallas.  This property stands out by having an indoor basketball court, a proper snooker table, and even a golf simulator room, making it possible to continue having fun even after you have returned home for the night.
With easy access to the DART train, it will make a great base for your Dallas trip. Those seeking something more up market will not be disappointed by what Hotel ZaZa has to offer. Far from your typical luxury accommodation, this boutique bolt hole is known for its exceptional customer service, eclectic taste in art, and its various themed rooms which range from Austin Powers chic to rockstar excess.
The Hilton Anatole for example is conveniently located just north of Downtown Dallas, in the Design District. The Dallas Convention Centre is situated nearby, as well as the market centre. Luxury and hospitality that truly emulates the Texan spirit can be found at the Sheraton Downtown Dallas Hotel; this is situated in the arts district of Downtown Dallas and a short way away from the Dallas Convention Centre. Finally, there is the Hyatt Regency which is within close proximity to the historic district and moments away from the Dallas Convention Centre.
What to do
There are many attractions one can see while in Dallas, such as The Sixth Floor Museum, which presents the life, death and legacy of President John F. Kennedy. Those looking for something more pleasant will enjoy touring Dallas Arboretum & Botanical Gardens, which contains an impressive array of flora that thrives in this region's subtropical climate. Additionally, don't forget to check out the George W Bush Presidential Library, which covers the life and times of one of America's most controversial presidents. For keen golfers there are a host of courses across Dallas; there are a total of five municipal courses across the city. Grapevine Mills is another area of Dallas which offers shopping and entertainment, ensuring there is plenty for business travellers to see and do whilst they are free.
In order to find the best fares available on business class flights to Dallas, speak to a SkyClub representative on 0207 255 1234. We take time to understand each passenger's individual requirements and are able to issue better fares than with the airline direct.