The best cheap business class flights to Koh Samui we found for a client this month cost £2,198 for a return ticket. Find the best deal on flights today by completing the form on the left of this page. We'll get back to you faster than you can say "Chaweng Beach!"
Average flight time, business class to Koh Samui from London: 13 hours 35 minutes
Airlines with direct business class flights to Koh Samui from London: There are no direct flights to Koh Samui. All flights stop in Bangkok, Singapore or Kuala Lumpur and use Bangkok Airways or Silk Air to transfer you to Samui Island.
Airports in Koh Samui: Koh Samui Airport
Distance from London to Koh Samui: 6,130 miles
Only Bangkok Airways has daily business class flights to Koh Samui
You can choose from a variety of airlines for the first leg of your journey. Notably, Thai Airways, Malaysia Air, Singapore Airlines and EVA air have one-stop flights. Thai Airways, in particular, is known for its plush business class seats and modern lounges.
Business class flights to Koh Samui arrive at the islands only Airport (which supports both international and domestic flights). It is located conveniently around 2km away from Chaweng, the most popular part of Koh Samui.
Getting to and from Koh Samui airport
Koh Samui has a developed road system and plenty of taxis. Taxis are the easiest and most convenient way of getting around the island, but they are relatively expensive and don't run by the meter so prices should be discussed before proceeding on the journey.
An alternative method is to hire a small scooter (the most popular mode of transport in Thailand). Roads are generally chaotic, and you should not attempt to drive a scooter unless you have a few years of driving experience under your belt.
Where to stay in Koh Samui
Compliment your business class flights to Koh Samui with a stay at one of the island's top hotels. Bophut, Chaweng and Lamai have plenty of 5-star hotels. Chaweng is bustling with beach clubs, while Lamai is better for smaller bars and pubs.
For a truly luxurious island getaway, book a room at the Four Seasons Resort Koh Samui. Think private beaches, secret garden spas, Muay Thai boxing rings and breathtaking sea panoramas.
In need of some life-changing peaceful moments? Book a program at the Kamalaya Wellness Sanctuary and spend each day being pampered by the staff who have your mental and physical health as their top priority.
Things to do in Koh Samui
With perfect beach weather all year round, Koh Samui is an exceptional island paradise. Big enough to offer modern comforts, but still maintain it's 'island vibe,' the island will encourage you to de-stress and enjoy yourself.
A Golden Landmark – Head to the northern coast to see Samui's Big Buddha shrine. Ordinate, gold, and 12-meters tall, it can be seen from quite a distance.
Peer at Oddly Shaped Rocks – Affectionately name the Grandpa and Grandma rocks, these special rocks were shaped by nature to look like human private parts!
Na Muang Waterfalls – There are two Na Muang waterfalls, each large and sprawling with tropical charm. Enjoy the purple rocks and large natural pools.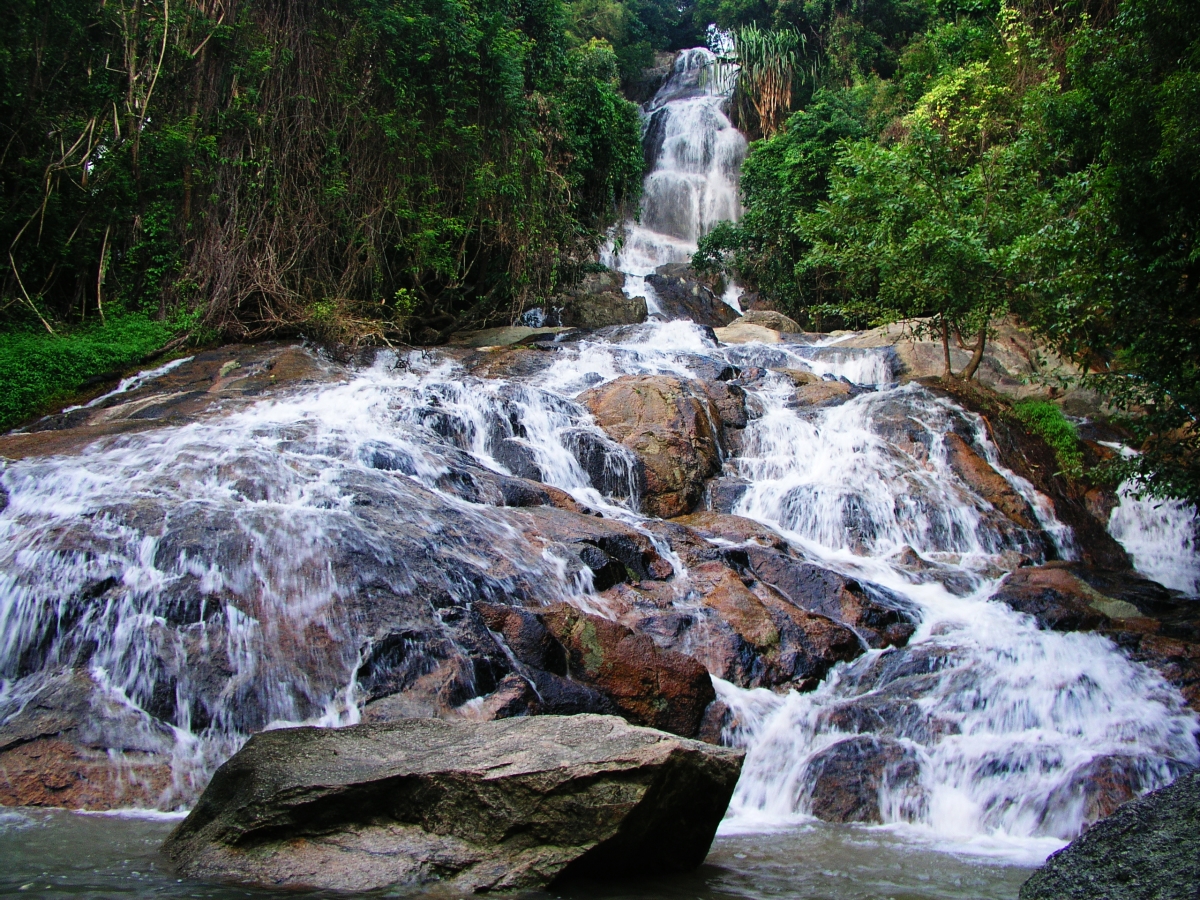 Koh Samui Bucket List Experiences
In a recent SkyClub survey, we asked over 1,000 of our clients "what's number one on your bucket list?"
Your answer? Something that's truly adventurous and daring. Here's some once in a lifetime bucket list experiences in Koh Samui.
Sea and Sailing – Why not charter a yacht for the day and explore the nearby islands at your own pace?
Safari – Explore iconic island sites like the Mummified Monk, Namuang Waterfall and Buddha's Magic Garden on a Jeep Safari Tour!
Business Class Flights to Koh Samui, Practical Information
UK passport holders have visa exemption for Thailand and do not need a visa for trips under 30 days. You can extend your stay while in Thailand or apply in advance for a longer visa at a Thai Embassy.
Koh Samui is warm and tropical all year round. Leave your winter jacket at home; you won't need it in the tropics. October through till December is the rainy season, with February probably being the driest, sunniest time to visit.
To get the best cheap Business Class flights to Koh Samui, simply complete the form on this page or call 0044 207 255 1234 to speak with one of SkyClub's fast and friendly experts.
We will find you special, discounted fares that are not available online. So, by the time you take your business class flights to Koh Samui, you'll feel happy knowing that you've paid less than the people seated nearest to you! Have a great trip and – if you want to save money – please book with SkyClub.
Further reading: