The best cheap business class flights to Maldives from London we found for a client last month were for an amazing £3,139 return. To get the best deals for today, simply complete the form below and get set to explore the tropical beauty and warm waters of Maldives.
Average flight time, business class flights to Maldives from London: 10 hours
Airlines with business class flights to Maldives from London: British Airways, Turkish Airlines, Emirates, Srilankan Airlines and Etihad.
Airports in Maldives: Velana International Airport/ Malé International Airport (MLE), Villa International, Gan International and Hanimaadhoo International Airport.
Distance from London to Maldives: 5,330 miles
British Airways and Emirates have Business Class Flights to Maldives from London
Depending on the season and travel dates, you may find a direct business class flight to Maldives from London with our SkyClub agents offering you the best deals. British Airways have deluxe luxury flights to Maldives with their Business class facilities and services to make your flights as comfortable and special as possible. You have a variety of in-flight perks from a wide range of entertainment options on the 10.4 inch entertainment screen to a variety of culinary delights. Rest comfortably with the lie-flat beds. They have a headrest and in built massagers to keep you fresh and relaxed for your stay ahead. Take advantage of priority boarding and check in and enjoy the luxurious business lounge.
Emirates Airlines have won awards for their highly satisfying and brilliant customer service. Their corporate clients opting for business class flights aren't disappointed in the slightest throughout the journey. Stretch your legs and get comfortable in spacious lounges with options that allow you to work or relax during flights. The external cameras give you breathtaking views of the sky and ground. Enjoy a great selection of food and refreshments with polite and friendly flight staff at your service at all times. The 79 inch flat beds will take away your weariness and travel anxiety and the 17 inch entertainment screen with over 1200 channels wouldn't let you get bored for a minute.
Depending on the airline and travelling dates, you can catch flights leaving for Maldives from the London Heathrow Airport at 6:25pm, 5:00 pm, 2:30pm, and 9:45pm.
We also offer value packages for indirect business class flights to Maldives. Average flight time is around 13 hours with transits at the International Airports of Dubai, Istanbul, Sri Lanka and Abu Dhabi.
Getting to and from the Airport
Business class flights to Maldives from London land at the Malé International Airport located on the Hulhule Island close to Malé. From there you can sail on a dhoni (a traditional boat in Maldives) or take a ferry that gets you to the city in less than 10 minutes. If you wish to travel to other islands you can catch a domestic flight or sea plane to get to your hotel. Boat transfers are available to take you directly to your resorts as well.
Where to stay in Maldives
Our SkyClub agents will be happy to assist you with all-inclusive offers for business class flights to Maldives along with hotel stay. Four Seasons Maldives is a beautiful resort on an island in the Baa Atoll. You'll take a 45 minutes seaplane from MLE to reach the resort. The relaxing bungalows and villas have free Wi Fi and smart TVS for entertainment. You can opt for villas built on land or overwater with beautiful gardens and sundecks surrounding the area and magnificent views of the ocean. An upgraded villa comes with your very own private beach. Enjoy activities like snorkeling, kayaking and visit the turtle rehabilitation center.
Lily Beach Resort & Spa is located in Huvahendhoo Island in the Alifu Dhaalu Atoll and is accessible by seaplane. The resort offers private decks and Jacuzzis to enjoy the spectacular views and fresh breezy air of the island. The upscale water villas are equipped with entertainment centers, minibars, daybeds, free Wi Fi and Nespresso machines. Upgrade these for luxury canopy beds, plunge pools and glass floors. Indulge in water sports and relaxing spas, playground, infinity pool and exotic cuisines.
Things to do in Maldives
Maldives offers a beauty and tranquility that completely absorbs you within it and takes your mind away from all the mundane worries of life. It is truly a paradise on Earth. We recommend you to explore Maldives in full swing with these activities.
Full Day Malé Walking Tour – The tour involves transportation between Malé and Villimale, traditional Maldivian food and a guide that will make your tour informative with navigation and commentary.
Maldive Victory – It is an astonishing shipwreck surrounded completely by corals and tropical fishes. This cargo ship met its doom on 13th Feb, 1981 and has now become a popular diving sightseeing experience.
Submarine Tour – It is a 2 hours immersive experience in Malé where you get to explore the depths of the Indian Ocean and go underwater and spend your time with corals and fishes without getting wet.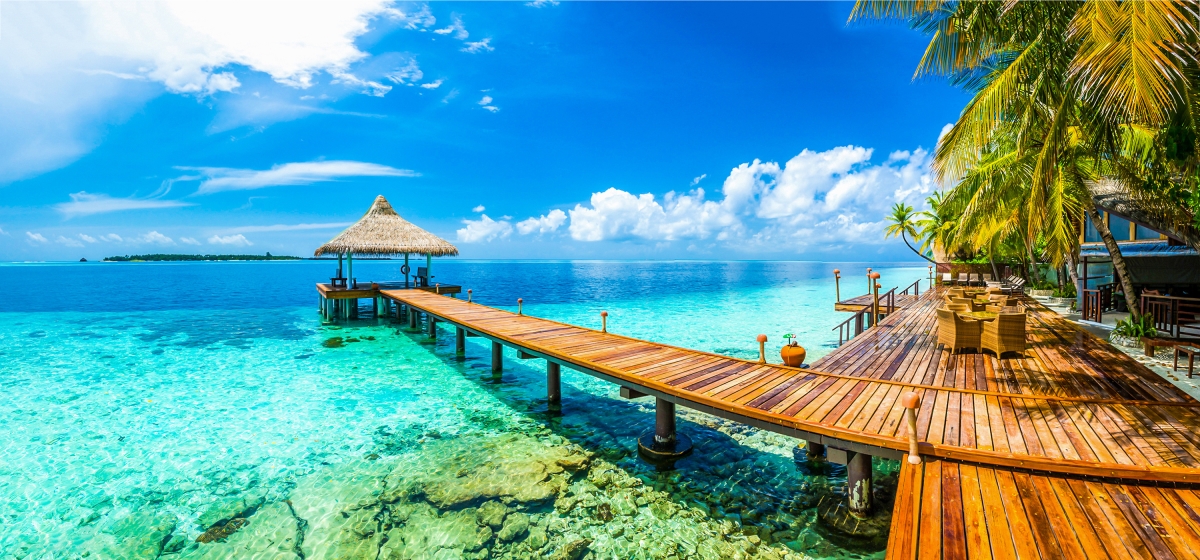 Bucket List Maldives and Experiences
According to a recent SkyClub Survey, we got to know that our clients have quite an adventurous spirit and seek at least one thrilling experience during their stay. Maldives is a place filled with amazing experiences and here are our top picks for you
Safari – Oh no, this is no ordinary safari. The Secret Paradise Maldives offers you a thrilling Snorkeling Safari for 3 hours where you get to discover sea life in three different locations and swim alongside fishes and corals.
Sea – How can we forget the sea while exploring he beautiful islands. Maldives Passions is the only dive center with clean safety record on Maafushi Island with brand new equipment to help you stay long underwater and learn diving from experts.
Business Class Flights to Maldives, Practical Information
British nationals require no visa to enter Maldives as you will receive free visa for 30 days on arrival. Maldives has a beautiful tropical climate all year round. The wet season lasts from May to October and the dry season is from November to April. Dry season is a more popular time for traveling and escaping harsh winters of Europe. Their currency is Maldivian Rufiyaa and Dhivehi is the official language most commonly spoken around the islands.
To get the best cheap Business Class flights to Maldives, simply complete the form on this page or call 0044 207 255 1234 to speak with one of SkyClub's fast and friendly experts. We will find you special, discounted fares that are not available online. So, by the time you take your business class flights to [destination], you'll feel happy knowing that you've paid less than the person sat next to you! Have a great trip and – if you want to save money – please book with SkyClub.
Further Reading: