The cheapest business class flights to Montreal from London we found for a client in the past month were for an amazing £1,503 return. To get today's best price simply complete the form on this page and we'll get back to you quicker than you can say International Jazz Festival.
Flight time from London to Montreal: 7 hours
Airlines with direct Business Class Flights to Montreal from London: Air Transat, Air Canada, British Airways
Airports in Montreal:  Montreal St Hubert, Montreal Mirabel, Montreal Pierre Elliott Trudeau.
Distance from London to Montreal: 3,254 miles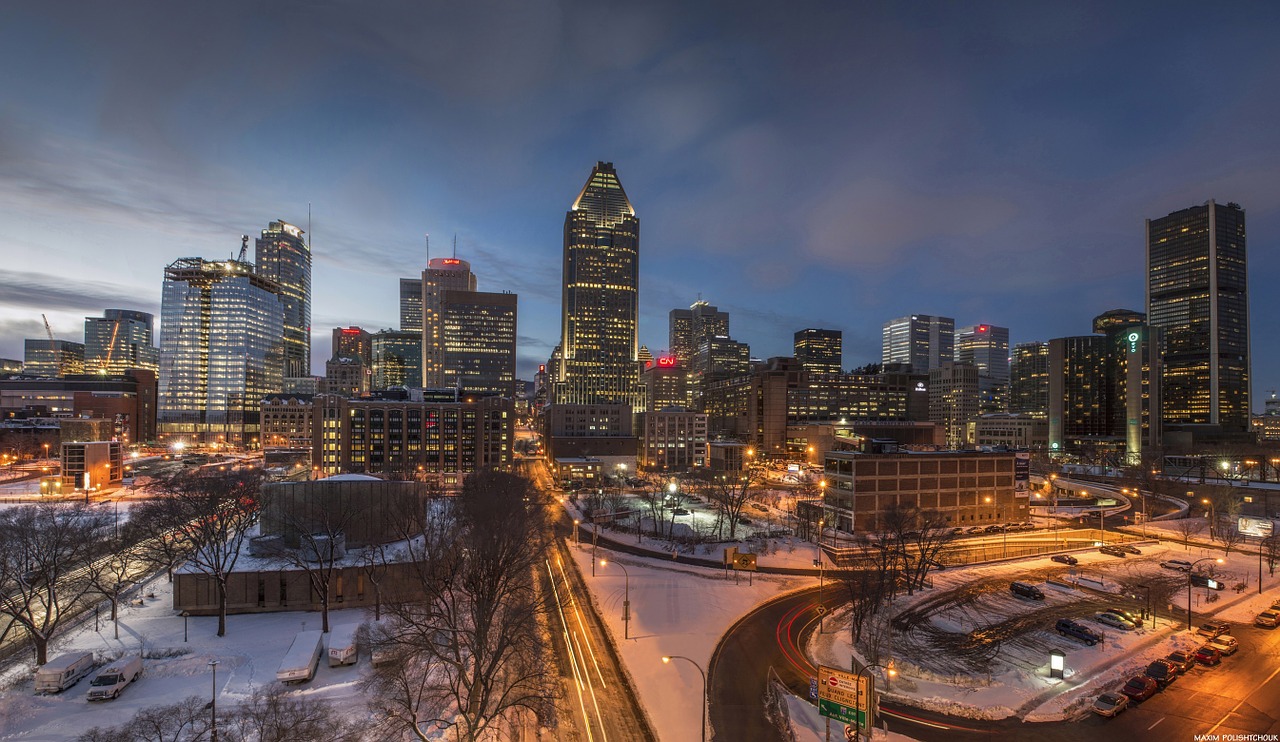 Business Class flights to Montreal
Three airlines operate direct business class flights to Montreal from London, including Air Canada, British Airways and Air Transat.
If you fly to Montreal in British Airways Business Class you'll experience the airline's Boeing 787 Dreamliner, which is known for offering improved air quality, reduced noise and large, dimmable windows. The Business Class cabin is known as "Club World" and features lie-flat seats along with 10.4″ entertainment screens and noise cancelling headsets. Bedding is provided by The White Company and includes a white cotton pillow, a padded mattress topper, a super soft woven day blanket with satin trim, and a luxurious duvet. The amenity kit is also designed by The White Company and contains products from the retailer's Restore & Relax Spa Collection, as well as a super-soft jersey eye-mask.
Air Canada also operates the Boeing 787 Dreamliner to Montreal, equipped with an International Business Class cabin. Executive Pods convert into lie-flat beds measuring 6'7″ long and feature quilted mattress pads, plush duvets and pillows, plus WANT Les Essentiels amenity kits filled with vitruvi skincare products. At the airport you'll have access to Air Canada's Maple Leaf Lounges across Canada, which feature complimentary Wi-Fi and newly created dishes by by Chef David Hawksworth. Travelling on a Business Class ticket also comes with a number of perks including dedicated check-in desks, access to fast-track security lanes, priority boarding and fast-track through immigration. Exclusive Concierge offices are available at Toronto, Montreal and Vancouver airports.
Getting to and from the airport
If you choose to take a taxi from Montréal-Trudeau you can expect it to cost around $40 to downtown Montreal. The minimum fare is $17 and you can hail a taxi or limousine at the arrivals level near the central exit located in front of the cloakroom. No reservation is necessary and fares are charged by the meter. Uber is available at Montreal airport too from Door 6 located on the Departures level.
The 747 bus line runs 24 hours a day, 7 days a week, between Montréal-Trudeau Airport and downtown Montréal, dropping people off on the corner of Berri and Sainte-Catherine – Berri-UQAM station). Travel time may vary between 45 to 70 minutes, depending on traffic conditions.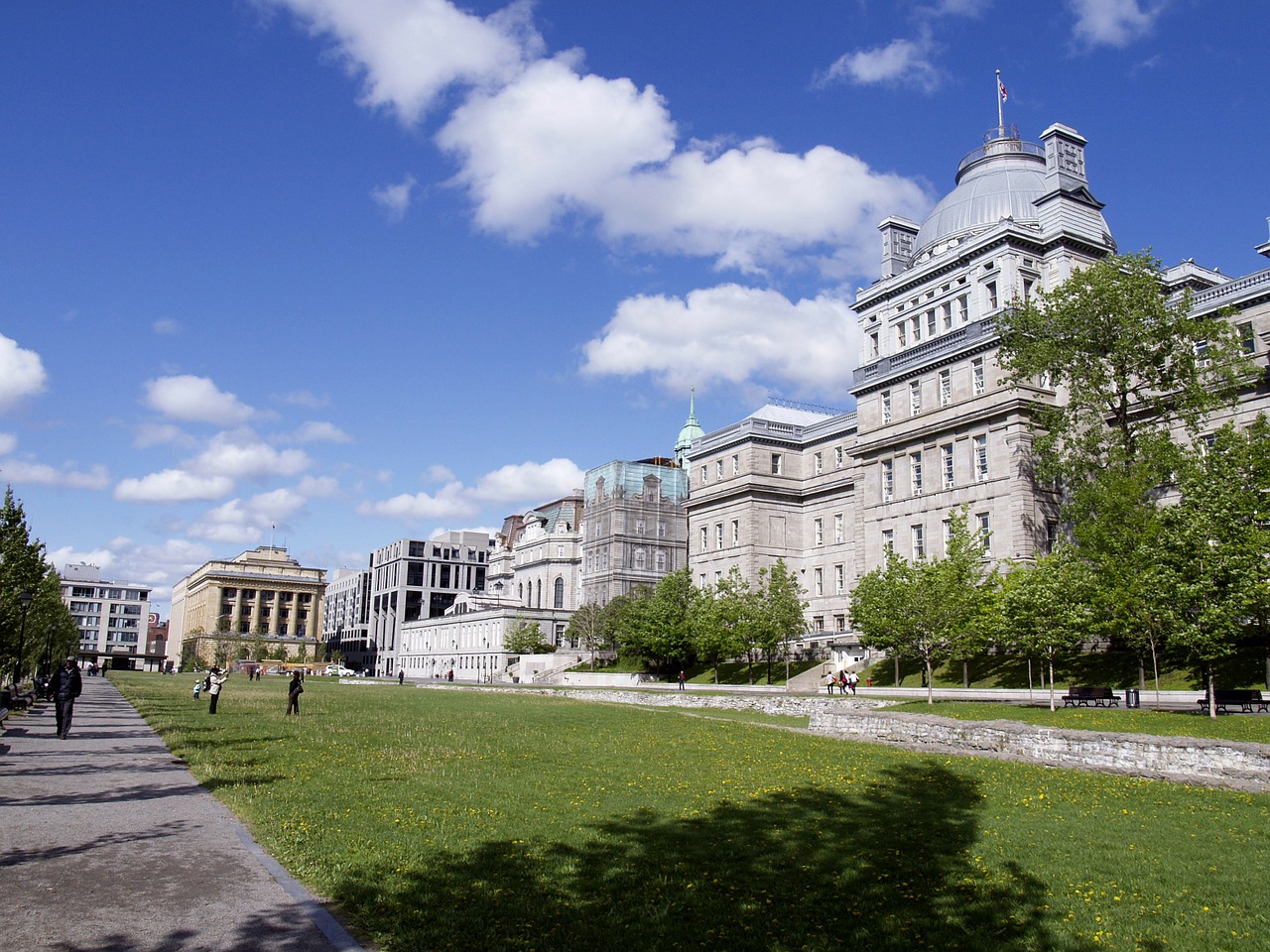 Where to stay in Montreal
Steeped in history, Montreal has some very elegant hotels housed in historic buildings. Match your business class flights with a stay in Hôtel Le Germain Montréal which offers 101 hotel rooms and suites and a complimentary Continental breakfast. If you want to discover Quebec's unique cuisine, book a table in the hotel's restaurant, which features a menu designed by Chef Daniel Vézina.
Another popular hotel is Loews Hôtel Vogue, which is centrally located in the Golden Square Mile – an area known for its beautiful Victorian residences and rich history. Boasting 142 oversized guestrooms and 16 suites, the hotel has a contemporary style and Wi-Fi is complimentary in all rooms and common areas, so you can easily catch up on emails and connect to the Internet during your stay.
Things to do in Montreal
Montreal may be a Canadian city but it feels a lot like a European one, with a quaint Old Town, cobbled streets, historic buildings and Francophile culture. The city is known for its strong focus on the arts, boasting a myriad of museums and galleries, as well as offering an excellent food and drink scene. Here are some of the main highlights or Montreal:
Old Town – Montreal's old town is a blend of North American and European cultures and makes you feel like you've stepped back in time to 1700. Place d'Armes is the highlight of the old town – a beautiful public square where you can stand and admire the facade of the Notre-Dame Basilica.
Mount Royal – This small mountain actually gave its name to Montreal and offers amazing views of Downtown, particularly if you head up there at sunrise or sunset. Parc du Mont Royal covers 200 hectares and was designed by the same man who came up with Central Park in NYC; Frederick Olmstead. The best spot for a selfie is the lookout point – Belvédère Kondiaronk – which was built in 1906.
Biodome Space for Life – Located at Montreal's Olympic Park, the Biodome Space for Life allows visitors to discover the four ecosystems of the Americas; a polar environment; a tropical rainforest, a Laurentian forest and the St. Lawrence marine setting. On a rainy day this is an excellent place to pass the time, since it's basically an indoor zoo, a botanical garden and an aquarium all rolled into one.
Business Class Flights to Montreal, Practical Information
British Citizens do not need a visa to travel to Canada, but it is necessary to obtain an Electronic Travel Authorisation (eTA) before you travel, otherwise you won't be able to board your flight. Your passport should be valid for the proposed duration of your stay but no additional period of validity is required.
The best time to visit Montreal is in summertime when temperatures reach around 21 degrees Celsius and the weather is mild. Winter can be especially chilly, when temperatures plummet to around -9 Degrees Celsius. If you're travelling during winter you'll definitely want to pack extra layers and a thick, puffy jacket.
To get the best cheap Business Class flights to Montreal, simply complete the form on this page or call 0044 207 255 1234 to speak with one of SkyClub's fast and friendly experts.
We will find you special, discounted fares that are not available online. So, by the time you take your business class flights to Montreal, you'll feel happy knowing that you've paid less than the person seated nearest to you! Have a great trip and – if you want to save money – please book with SkyClub.
Further Information:
Visiting friends and family in style – Discounted business class at the last minute