The cheapest business class flights to New York from London we found for a client in the past month were for an amazing £1,457 return. To get today's best price simply complete the form on this page and we'll get back to you quicker than you can say The Big Apple!
Flight time from London: 7 hours 30 minutes
Airlines with Direct Business Class Flights to New York from London: Virgin Atlantic, British Airways, American Airlines, United, Delta Air Lines, Air India, and Norwegian.
Airports in New York: New York Newark, New York John F. Kennedy, New York LaGuardia and Stewart International.
Business Class Flights to New York
With a journey time of approximately 7 hours 30 minutes from London (and a time difference of 5 hours) you can easily hop on a flight to New York and arrive with plenty of time to enjoy the day. Virgin Atlantic, British Airways, United, Delta and American Airlines all offer direct business class flights to New York from Heathrow. Norwegian offers daily flights from London Gatwick, although the premium cabin doesn't offer lie-flat seats – just seats with extra legroom.
If you like the convenience of flying from a central airport, British Airways also offers a business class-only flight from London City, although beware it's not actually direct. The flight stops in Shannon, where passengers go through pre-clearance enabling them to skip the customs queue in New York.
Check out our guide to discover which airlines offer the best business class to New York from London.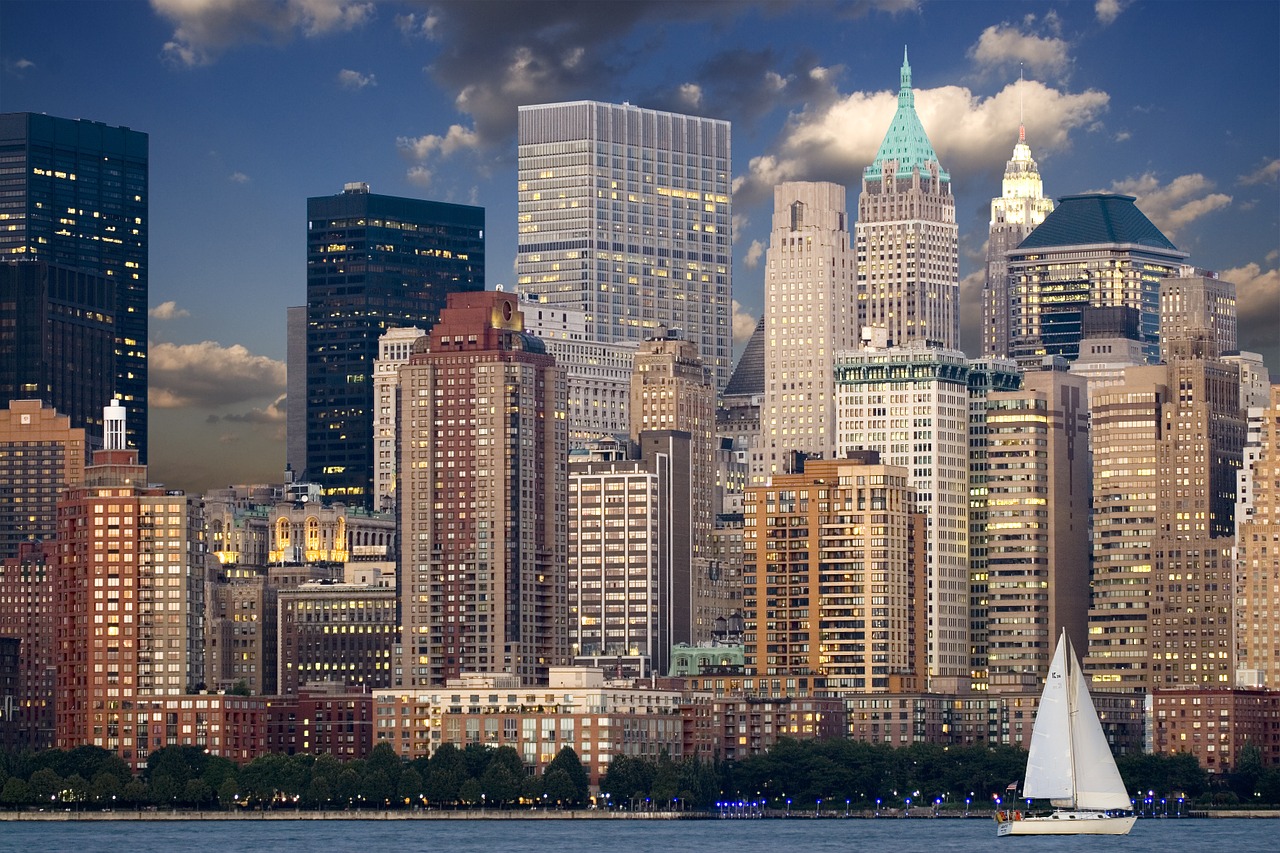 Getting to and from the airport
Business Class passengers on Virgin Atlantic receive a complimentary chauffeur-drive service from JFK to their hotel in Manhattan. If you're flying with other airlines you can get a taxi on arrival, or you can choose to opt for an Uber pool, which will cost $35 flat fare if you're arriving at JFK. Sometimes traffic from the airport can be particularly bad, especially around Manhattan, so it can often be quicker to travel by train or subway to and from the airport. If you're not sure how to get there Google Maps is brilliant for showing you which lines to take.
Things To Do in New York
In New York you'll never be short of things to do. The Big Apple is a 24-hour city, hence why it is known as "the city that never sleeps". From art galleries and museums to  Broadway shows and vibrant cocktail bars, New York has so much to do that one trip is just never enough. If it's your first-time travelling to NYC, these are the sights you won't want to miss:
Empire State Building – This 102-story skyscraper in Midtown Manhattan is one of the most iconic buildings in the world. Ride the elevator to the top for magnificent views across the whole of New York city. Our top tip: head up there right before sunset to capture those beautiful sunset colours.
Grand Central Terminal – Not just your average train station – Grand Central Terminal is a beautiful building that has been featured in countless movies. It's worth making a stop in here to observe commuters as they rush to catch their trains.
Chelsea Market – For foodies, Chelsea market is the place to go to try all sorts of different cuisines. Located in the trendy neighbourhood of Chelsea, this market is filled with stalls selling everything from rotisserie chicken and pizza to Japanese-inspired tacos and mini donuts.
Top of the Rock – The observatory on top of the Rockefeller Center has three indoor and outdoor viewing decks, including an open-air roof deck on the 70th floor. Definitely pay a visit to capture some stunning photos of the skyline.
Central Park – The biggest green space in New York City, Central Park covers an area of 843 acres and is the ideal place to escape the hustle and bustle of Manhattan.
Hotels in New York City
New York is full of hotels ranging from traditional chains to more contemporary boutique properties. Room sizes can be fairly small and cramped due to limited space in Manhattan unless you're specifically booking larger suites. Just beware of any resort fees and city taxes, which will be added onto your bill at the end of your stay.
Business class flights to New York would be wasted without a stay in one of the following luxury hotels. SkyClub recommends…
If you're conducting business in Midtown we'd recommend the Arlo Nomad – a contemporary high-rise hotel with compact but thoughtfully designed rooms. The big plus of this hotel is that most of the rooms have views of the city and Empire State building, and there's a rooftop bar on top of the hotel where you can grab a cocktail in the summer months.
For the ultimate luxury getaway in NYC you might try booking The Pierre – a Taj Hotel that features luxury rooms with views of Central Park. Or, if Brooklyn is more your scene, the 1 Hotel Brooklyn Bridge has expansive views of the East River and Manhattan skyline.
Business Class Flights to New York, Practical Information
UK citizens can enter the US under the Visa Waiver Program by applying for an ESTA online. The ESTA is valid for 2 years after approval and allows you to visit for up to 90 days for tourism and some business purposes.
New York has extreme weather conditions – in summer it can be incredibly hot and humid, so most New Yorkers tend to escape to the Hamptons. In winter it can be bitterly cold, so make sure to pack appropriate winter gear.
To get the best cheap Business Class flights to New York, simply complete the form on this page or call 0044 207 255 1234 to speak with one of SkyClub's fast and friendly experts.
We will find you special, discounted fares that are not available online. So, by the time you take your business class flights to New York, you'll feel happy knowing that you've paid less than the person seated nearest to you! Have a great trip and – if you want to save money – please book with SkyClub.
Further Reading:
On the Bucket List – First or Business Class to New York Please