The best cheap business class flights to Thailand we found for a client this month cost £1,749 for a return ticket. This was for a business class flight from London to Bangkok. Find the best deal on flights today by completing the form on the left of this page. We'll get back to you faster than you can say "James Bond Island".
The capital Bangkok is the most popular destination in the whole of Thailand. Millions of visitors explore its crowded streets on any given day, enjoying the lively Thai culture and the convenience of an economy built on tourism.
See elephants, hike through emerald green jungles, and explore the ancient temples of this paradise country. Read on for more information about how to get there and and what to do…
Business Class Flights to Thailand From London:
The top airports in Thailand with business class flights are:
Dong Mueang International Airport
Chiang Mai InternationalAirport
Chiang Rai InternationalAirport
Hat Yai International Airport
Phuket International Airport
U-Tupao International Airport
Udon Thani InternationalAirport
Samui Airport
Suvarnabhumi Airport
When taking business class flights to Thailand, it is recommended that you use any of the following airlines for the best accommodations and flight experience:
Oman Air
Qatar Airways
Gulf Air
Air France
Air France
Finnair
Etihad
Turkish Airlines
Swissair
Austrian Airlines
KLM
Lufthansa
Emirates
Asiana Airlines
Korean Air
There are a lot of choices for airlines with business class flights to Thailand. If you are travelling within Thailand, use the overnight trains or domestic flights to get around.
When to Travel Business Class flights to Thailand
Thailand enjoys tropical weather with sunny skies and warm oceans making it one of the best places to escape the winter cold. November to February is considered the 'best season' with the least amount of rain (and the highest prices). Enjoy cheaper travel from June through October when frequent monsoons bring rainy skies and cooler temperatures.
Two annual festivals engage the whole country; Songkran (April 13-15) and the Loy Krathong (12th full moon). Avoid these dates if you are on business travel as many businesses will be on holiday and the streets will be crowded.
Where to Stay and How to Get Around
When your business flights to Thailand touch down, it's essential to have a transport plan in mind. Taxis are an easy way to get around big cities. Usually affordable and available on the Grab app, you won't have a problem getting to your destination safe and sound. You can flag down any vacant taxis if you don't have access to an app or the internet.
If you are up for a bit of an adventure, take a three-wheeled tuk-tuk and enjoy being speedily driven to your destination Thai-style.
Hiring a scooter is another popular (but often dangerous) way of getting around cities and smaller islands.
For the most exclusive, luxury experience in Thailand, fly to Koh Samui Island and stay at the gorgeous Four Seasons Resort. It'll be the best hotel experience you've ever had.
Phuket is famous for its beautiful beaches and prime dive sites. Stay at the Amatara at Regent Phuket Cape Panwa Hotel – all villas have sparkling sea views and excellent service.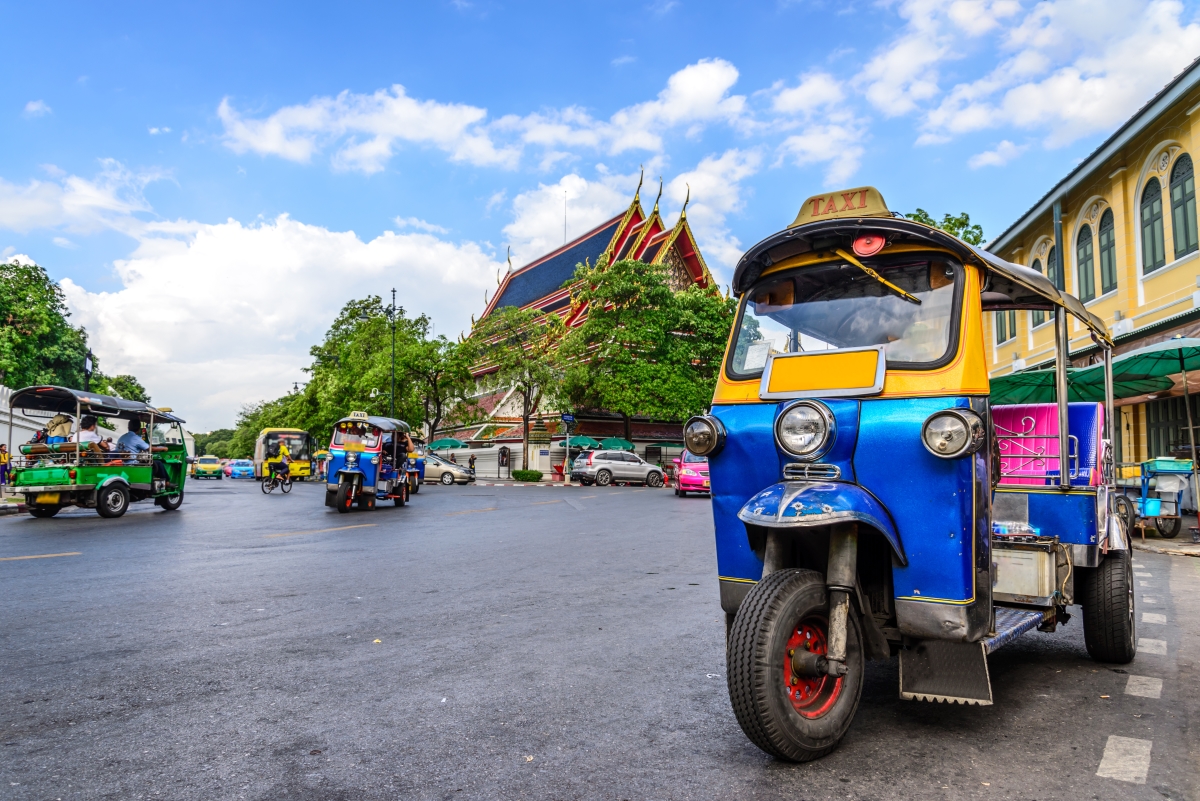 Thailand Bucket List Experiences
In a recent SkyClub survey, we asked over 1,000 of our clients "what's number one on your bucket list?"
Your answer? Something that's truly adventurous and daring. Here's some once in a lifetime bucket list experiences in Thailand.
Spectacular – Join a Muay Thai fighting camp or go watch one of the action-packed Muay Thai boxing matches in Bangkok.
Sea and Sailing –  Charter a yacht in Phuket and enjoy an epic 7-day sailing trip around the island.
Sky – Jump out of a plane, catch some air kitesurfing, or go bungee jumping – there's no shortage of action-packed activities.
Scuba – Go diving with turtles and gigantic whale sharks in Koh Tao
Safari – See elephants up close and personal at one of the many ethical elephant parks.
Summit– Hike to the country's highest point – the summit of Doi Inthanon.
Useful Information for Business Travellers to Thailand
UK passport holders have visa exemption for Thailand and do not need a visa for trips under 30 days. You can extend your stay while in Thailand or apply in advance for a longer visa at a Thai Embassy.
Thai is the national language of Thailand, but many citizens of the country also speak English. The "wai" is a gesture of respect that is done by putting your palms together, in front of your chest, and bowing slightly.
Baht is the currency of Thailand and can be exchanged in airports, money exchange centres and most banks. ATM's are located in cities and charge a small fee for international withdrawals. Almost all 7-11 convenience stores have two or three ATMs to choose from.
To get the best cheap Business Class flights to Thailand, simply complete the form on this page or call 0044 207 255 1234 to speak with one of SkyClub's fast and friendly experts.
We will find you special, discounted fares that are not available online. So, by the time you take your business class flights to Thailand, you'll feel happy knowing that you've paid less than the people seated nearest to you! Have a great trip and – if you want to save money – please book with SkyClub.