Air New Zealand has been experimenting with futuristic technology by introducing a humanoid robot at Sydney Airport. The CANdroid robot – named 'Chip' – is designed to help passengers check in and board flights at Sydney International airport, and will even wave goodbye.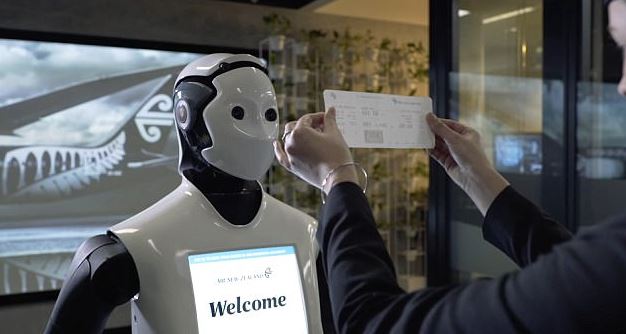 The black and white robotic worker was introduced at Sydney airport this week as part of a five-day experiment that runs from August 21 to August 25. Chip is has two eyes, no mouth and a touch screen chest, and can assist passengers with check-in and boarding. Passengers can show boarding passes to the robot's eyes, which then scan all the information, providing a more engaging and interactive experience than ordinary check-in monitors. 
This is a great example of an innovative airline that is embracing futuristic technology. Air France has also been experimenting with technology by testing virtual reality headsets instead of ordinary entertainment screens. 
To launch the experiment, Air New Zealand partnered with Commonwealth Bank, which acquired the robot in late 2016 when it established an innovation lab and social robotics team in Sydney. The bank has been partnering with global companies to establish how robots could impact and play a part in everyday life. 
Air New Zealand chief digital officer, Avi Golan, says: "This partnership and experiment with Commbank and Chip is another way we are pushing the boundaries to ensure we remain at the forefront of technology which will allow us to further enhance the experience we offer our customers."
"We are also experimenting with potential enhancements of the future, including the idea of our cabin crew one day using Microsoft's HoloLens augmented reality viewers on board our aircraft," Golan said.
Tiziana Bianco, general manager of Innovation Labs, said: "This experiment is a great example of why we invested in social robotics; working collaboratively with an innovative client like Air New Zealand, while also engaging some of the brilliant minds from UTS' Centre for Artificial Intelligence."
"It is a wonderful opportunity to explore the possibilities of a horizon technology such as social robotics, and what it might enable in the future."