The cheapest business class flights to Sydney from London we found for a client in the past month was for an amazing £4,299 return. To get today's best price simply complete the form on this page and we'll get back to you quicker than you can say Bondi Beach!
Flight time: 20 hours 50 minutes
Airlines flying from London to Sydney: Emirates, Qantas, Cathay Pacific, British Airways, Malaysia Airlines, Qatar Airways, Singapore Airlines, Thai Airways, China Southern, Air India, Vietnam Airlines, Philippine Airlines
Airports in Sydney: Sydney Kingsford Smith
Distance from London to Sydney: 10,566 miles
Best Business Class Lounges at Sydney Airport: Etihad Premium Lounge, Emirates Lounge, American Express Lounge, Air New Zealand Lounge, Qantas International Business Lounge, Singapore Airlines SilverKris Lounge, SkyTeam Lounge
Business Class Flights to Sydney
There are currently no direct business class flights to Sydney from London, although Qantas will soon be launching a direct flight from London to Perth and opening a new international wing at Perth airport.
Many airlines fly from London to Sydney (known as "the kangaroo route"); which carrier you choose may depend on where you want to stopover.
Qantas is Australia's national carrier and operates flights from Heathrow to Sydney via Dubai. Emirates also flies from Heathrow to Sydney via Dubai and code-shares with Qantas.
Qantas's flagship lounge at Heathrow Terminal 3 opens in late 2017, occupying a split-level space with seating for 230 guests. Open to both First and Business Class customers, the lounge features a Rockpool menu and dining experience, full service bar, children's zone, business facilities, showers and full bathroom facilities. The airline currently utilises its A380 aircraft on flights from Dubai to Sydney, featuring an onboard lounge for first and business class passengers. In August 2017 the airline announced it would be reconfiguring the aircraft to feature additional premium seating and provide more space in the onboard lounge.
Cathay Pacific connects in Hong Kong, Etihad in Abu Dhabi, Thai Airways in Bangkok, Qatar Airways in Doha and Malaysia Airlines in Kuala Lumpur. Both British Airways and Singapore Airlines stop in Singapore on their way to Sydney. If you need to fly from Gatwick Airport out of convenience, Emirates operates flights from Gatwick to Sydney via Dubai.
Whichever airline you choose, all of these long-haul carriers are known for offering exceptional business class service. For more information, read our guide to the best airlines offering business class from London to Australia.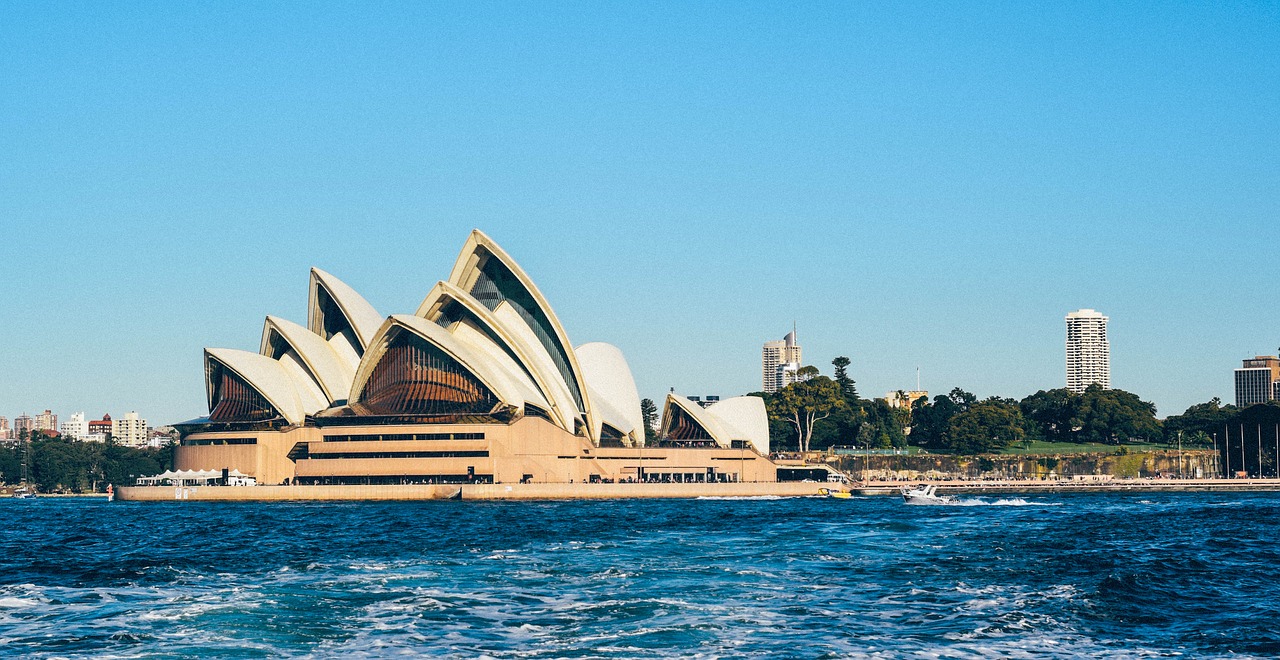 Getting to and from the airport
There are taxi ranks at arrivals when you land at Sydney Kingsford Smith airport – be aware that a toll will be added to your fare. You can also reach Sydney easily by public transport, either by taking the train from the train station directly beneath the terminals, or by hopping on a bus from outside the terminal. To catch a train or bus, you will need an Opal card or Opal single ticket. Using an Opal card is the easiest and most affordable way to travel in Sydney and you can top up the balance in the train stations.
Where to stay in Sydney 
Many big name hotels have properties in Sydney, including the Four Seasons, Intercontinental, Shangri-La and Hilton.
Clients taking business class flights to Sydney often recommend the Park Hyatt, which has panoramic views of the Sydney Opera House and Sydney Harbour Bridge. You can't beat the location, and the rooms feature contemporary interiors and floor-to-ceiling glass doors that open to private balconies.
For a unique experience, try The Old Clare – a 62 room boutique hotel that stretches across two iconic heritage-listed buildings – The Clare Hotel pub and the Carlton & United Breweries Administration Building. Facilities include a stunning swimming pool and two restaurants from esteemed chefs Clayton Wells and Jason Atherton.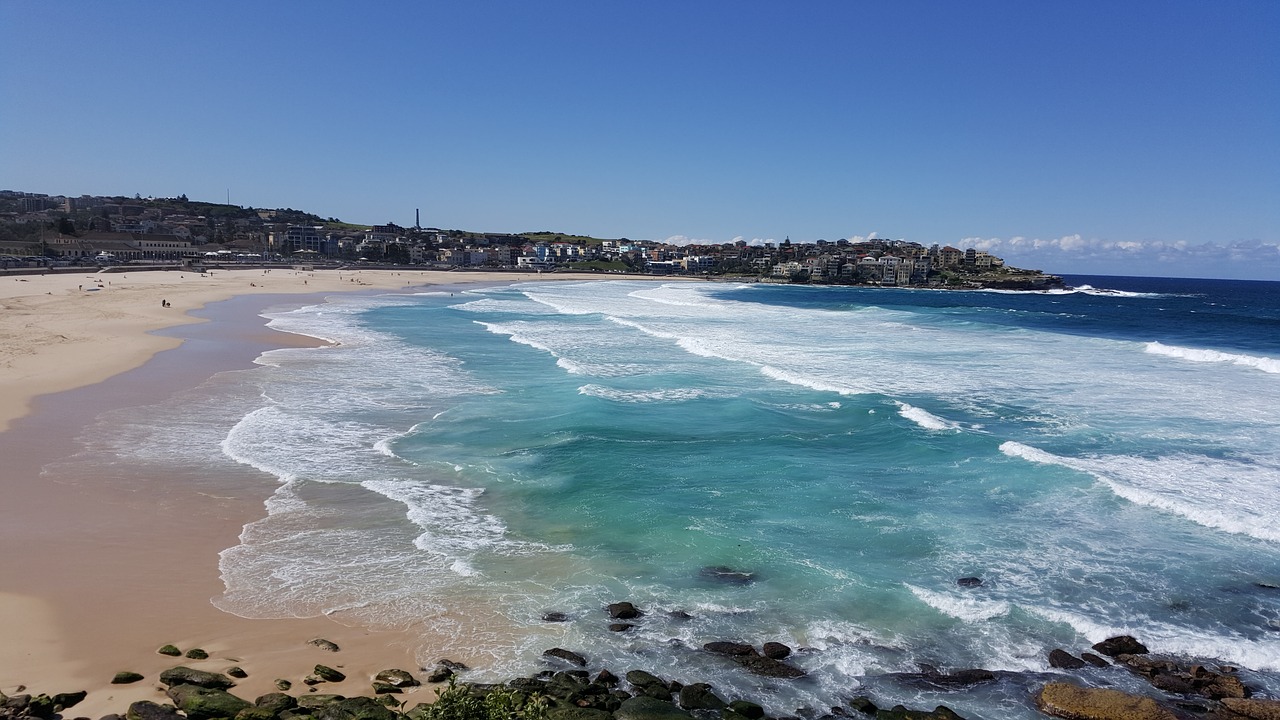 Things to do in Sydney
Boasting beautiful weather all year round, Sydney has an outdoorsy culture. Whether you choose to picnic in the Royal Botanical Gardens or grab lunch in an outdoor café, Sydney is a place to be outside and enjoy the sunshine.
Sydney Harbour Bridge – Your first port of call should be Sydney Harbour, where you can snap photos of the iconic Sydney Harbour Bridge and Sydney Opera House. Don't forget to have a drink in the Opera bar, where you can soak up the views with a glass of bubbly in hand.
The Rocks – This historic area of the city centre began as Sydney's original convict settlement but is now a trendy area with cobbled laneways, warehouse-style buildings, art galleries and old pubs. The Rocks the perfect place to stop off for a craft beer and learn about Sydney's colonial past.
Darling Harbour – Darling Harbour is filled with waterfront restaurants and attractions including Madame Tussauds, SEA LIFE Sydney Aquarium and the WILD LIFE Sydney Zoo.
Royal Botanical Gardens – Covering 74 acres of land, the Royal Botanical Gardens is the ideal place to escape the hustle and bustle of the city and enjoy a picnic in the park. These beautiful landscaped gardens are home to thousands of plant specimens and offer beautiful views of Sydney Harbour.
Bondi Beach – No visit to Sydney would be complete without visiting the famous Bondi Beach, which even had its own TV show, Bondi Rescue. Located just 10 minutes from Sydney, Bondi is one of Australia's best beaches, boasting fine sands and beautiful coastal walks.
Business Class Flights to Sydney, Practical Information
Sydney enjoys a year-round sunny, warm climate so any day of the year is a good day to visit. Summertime is December to February, making it a popular destination for British holidaymakers to escape the harsh winters of the UK. The weather at this time becomes quite humid, so if you prefer a dryer atmosphere then you may want to visit during the shoulder seasons of Autumn (March-May) or Spring (September-November). Even winter (June-August) doesn't get particularly cold – with temperatures averaging around 13°C.
British Citizens need a visa to travel to Australia. If you have a full British passport you can get the following types of electronic visitor visa:
To get the best cheap Business Class flights to Sydney, simply complete the form on this page or call 0044 207 255 1234 to speak with one of SkyClub's fast and friendly experts.
We will find you special, discounted fares that are not available online. So, by the time you take your business class flights to Sydney, you'll feel happy knowing that you've paid less than the person seated nearest to you! Have a great trip and – if you want to save money – please book with SkyClub.
Further Reading: