When flying Business Class from the UK there's an overwhelming number of airline choices to fly with, each offering different products and seats. Here we've put together a complete guide to the airport lounges and airlines available in the UK: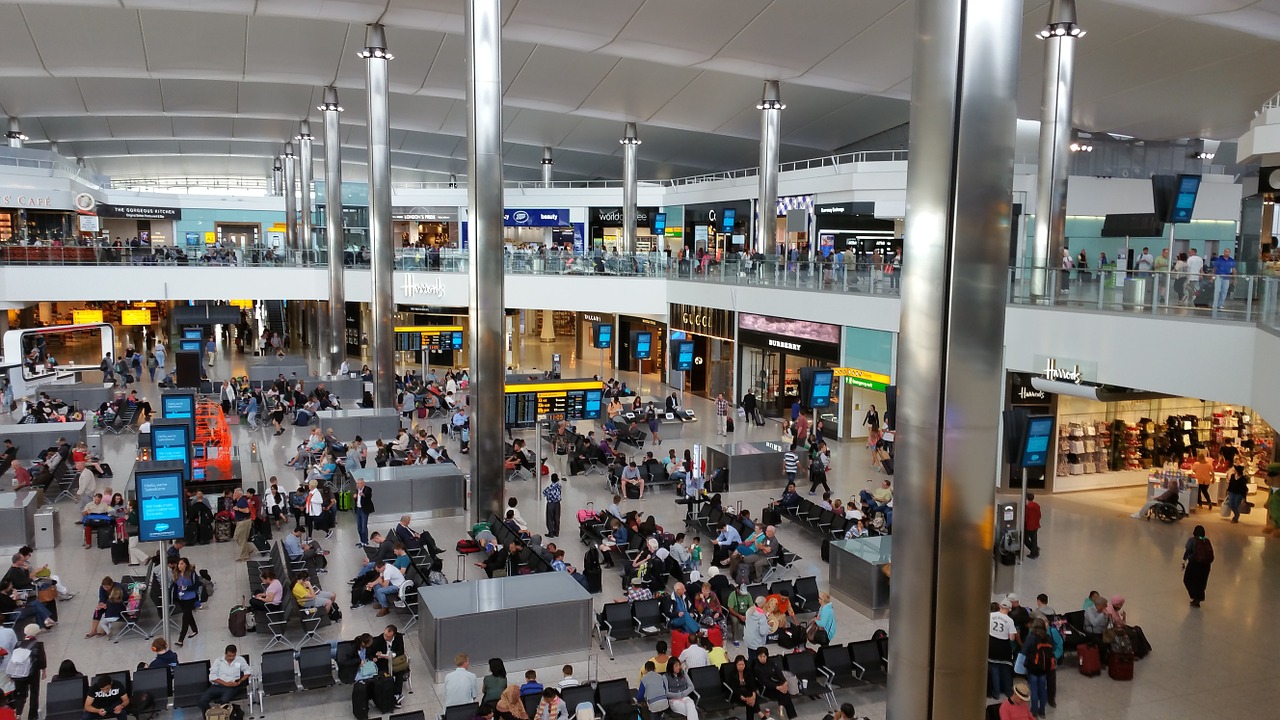 Why fly Business Class?
You know what they say – once you've flown Business Class you can never go back. Lie-flat seats, extra leg room, complimentary champagne and three-course meals are just some of the things that await you in Business Class. Flying Business Class turns the flight into an experience to be enjoyed as opposed to one where you are counting down the clock till landing. With so many luxurious airlines offering their newest planes on fights from the UK, you'll always be able to try the latest cabin products.
Airports and Airport Lounges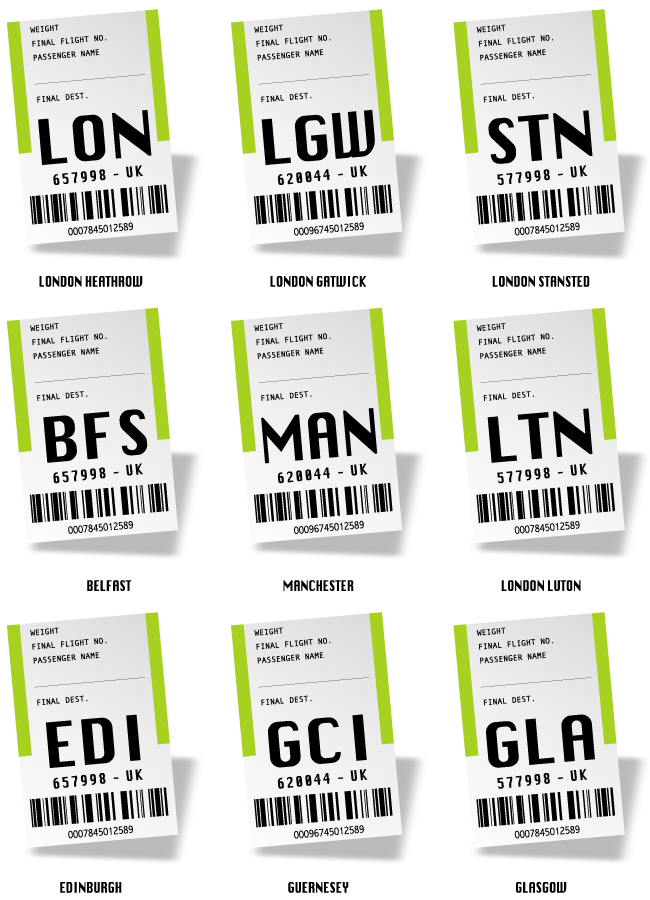 Heathrow
Heathrow is one of the busiest airports in the world and there are 4 Terminals numbered 2 to 5, so make sure you know which one you are flying out of. The airport also has a whopping 42 airport lounges! It would be impossible for us to list them all in this post, but here's a detailed guide to all the lounges at Heathrow Airport. If you're flying with BA then it's likely you'll be flying out go Terminal 5, where the airline has 3 Galleries Club Lounges and an Arrivals Lounge for use by Business Class passengers.
Gatwick
Located south of London, Gatwick is popular for both short and long-haul flights. The airport has two terminals – North and South – so make sure you know which terminal you're flying out of. British Airways flies out of South Terminal, where it has opened a stunning new lounge that's equipped with 469 seats and plenty of plug sockets for charging electronics. Meanwhile Virgin Atlantic flies out of North Terminal, where it has opened a brand new Clubhouse and spa that boasts a bar serving cocktails by London cocktail bar White Lyan. Other lounges inside the airport include No 1, My Lounge, Aspire and Club Rooms.
Stansted
Stansted has traditionally been known as a hub for low cost carriers but Emirates will be launching a service from June 2018 to Dubai, so expect to see more Business Class travellers passing through this airport. Currently there are Escape and No 1 Lounges available at this airport.
Manchester
Manchester Airport is undergoing a £1 billion makeover but for now, the airport offers Escape Lounges at Terminals 1, 2 and 3, as well as the 1903 lounge at Terminal 3. All of these lounges can be booked online. There's also a doughnut-shaped British Airways Terraces lounge at Manchester Terminal 3 with a fully stocked bar, small business centre and free Wi-Fi.
Birmingham
Birmingham airport has two pay-to-enter lounges – No1 Lounge and Aspire Lounge – plus an Emirates Lounge for Emirates First and Business Class customers and Skywards Gold members. The lounge is located after security between gates 40-68 on the North pier and features a full bar, fresh food and shower facilities.
Glasgow
At Glasgow Airport there's the UpperDeck Lounge – a fresh, modern lounge, which is open from 5am to 8.30pm daily. Prosecco and champagne must be purchased but there's a wide selection of drinks available and you can help yourself to a selection of snacks. The airport itself is the busiest of Scotland's airports, serving over 7.9 million passengers each year.
Edinburgh
British Airways opened its Galleries Lounge at Edinburgh Airport in 2013 following a £1.5 million investment. As a Club World or Club Europe customer you will have access to the lounge, which features self-service dining and plenty of seating. There are also two other lounges at Edinburgh – the No 1 Lounge and Aspire Lounge – which anyone can pay to get into.
Airlines flying Business Class from the UK
British Airways 
British Airways Business Class is called Club World, which features 10.4 flat screen TVs, lie-flat seats, in-seat power and luxury bedding supplied by The White Company. The added perk of flying with British Airways is that you'll receive a complimentary treatment in the Elemis Travel Spa before your flight.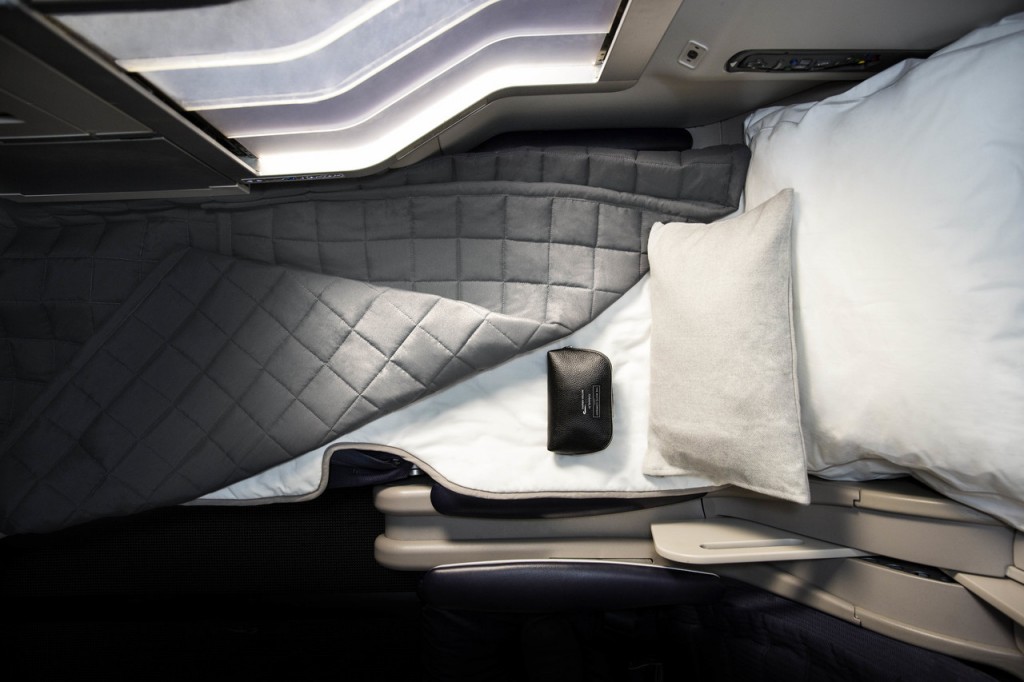 Virgin Atlantic
Virgin Atlantic offers a chauffeur driven car service to and from the airport, as well as personalised, dedicated check-in and a Private Security Channel at Heathrow. You'll also have access to Virgin Atlantic's Clubhouse lounges, which offer delicious food and cocktails served by trained mixologists. The airline currently has 10 lounges across the world, as well as an arrivals lounge at London Heathrow. Every single Upper Class Suite has its own aisle access and a bed that reclines to become fully flat. There's also an ottoman seat and a table so you can chat with a colleague, as well as in-seat power so you can charge your devices.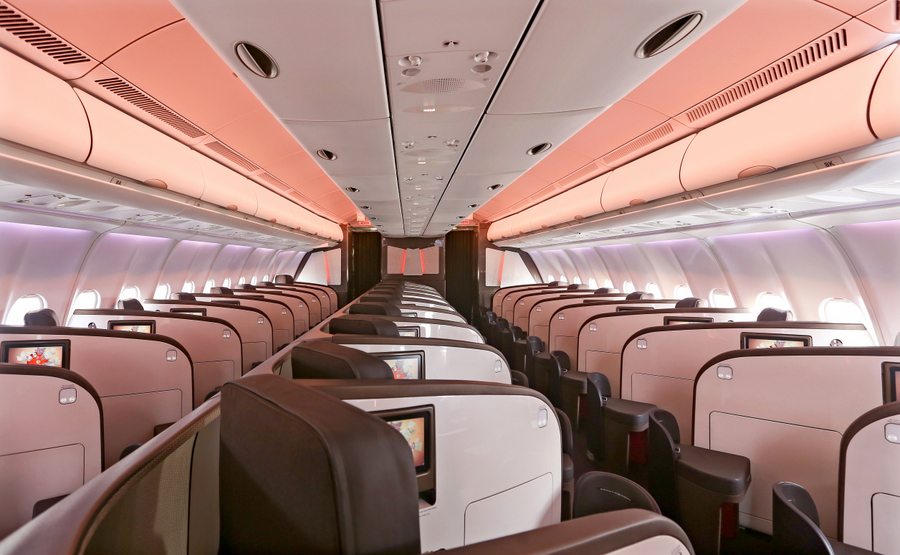 American Airlines
In American Airlines Flagship Business-International, seats recline to become fully-flat and feature in-flight entertainment screens with noise cancelling headsets. The amenity kit is by Cole Haan and contains C.O. Bigelow skincare products, while the bedding is provided by sleep technology company Casper. Casper has designed a range of products to make you feel more comfortable, including a mattress pad, duvet, pillow, day blanket, slippers and pyjamas.
Qatar Airways
Qatar Airways operates an ultra-modern fleet of Boeing 777, Boeing 787, Airbus A350 and Airbus A380 aircraft. The airline's A380 aircraft features an onboard bar where passengers can relax with a cocktail or drink and chat to fellow passengers. Business Class features fully-flat beds and ample storage space, along with LED lighting to help you adjust to time zones. Qatar Airways offers an on-demand dining service, so you you can dine at any time during the flight, whenever you feel like it. Not many airlines offer pyjamas in Business Class but Qatar Airways is one airline that does, providing a comfy grey sleep suit designed by The White Company.
Singapore Airlines
Singapore Airlines has three Business Class products – Regional Business Class, Business Class and New Business Class. If you manage to fly on the airline's newer planes, your suite features a seat handcrafted from Scottish leather with a diamond stitch pattern. The seat has two new seating positions – the 'Lay Z' and the 'Sundeck' – and can recline to become a 78-inch fully flat bed. When it comes to entertainment Singapore Airlines offers one of the largest Business Class entertainment systems in the skies, measuring 18-inches. Dining is also excellent, with the option to "Book the Cook" by pre-ordering your main meal option up to 24 hours before your flight.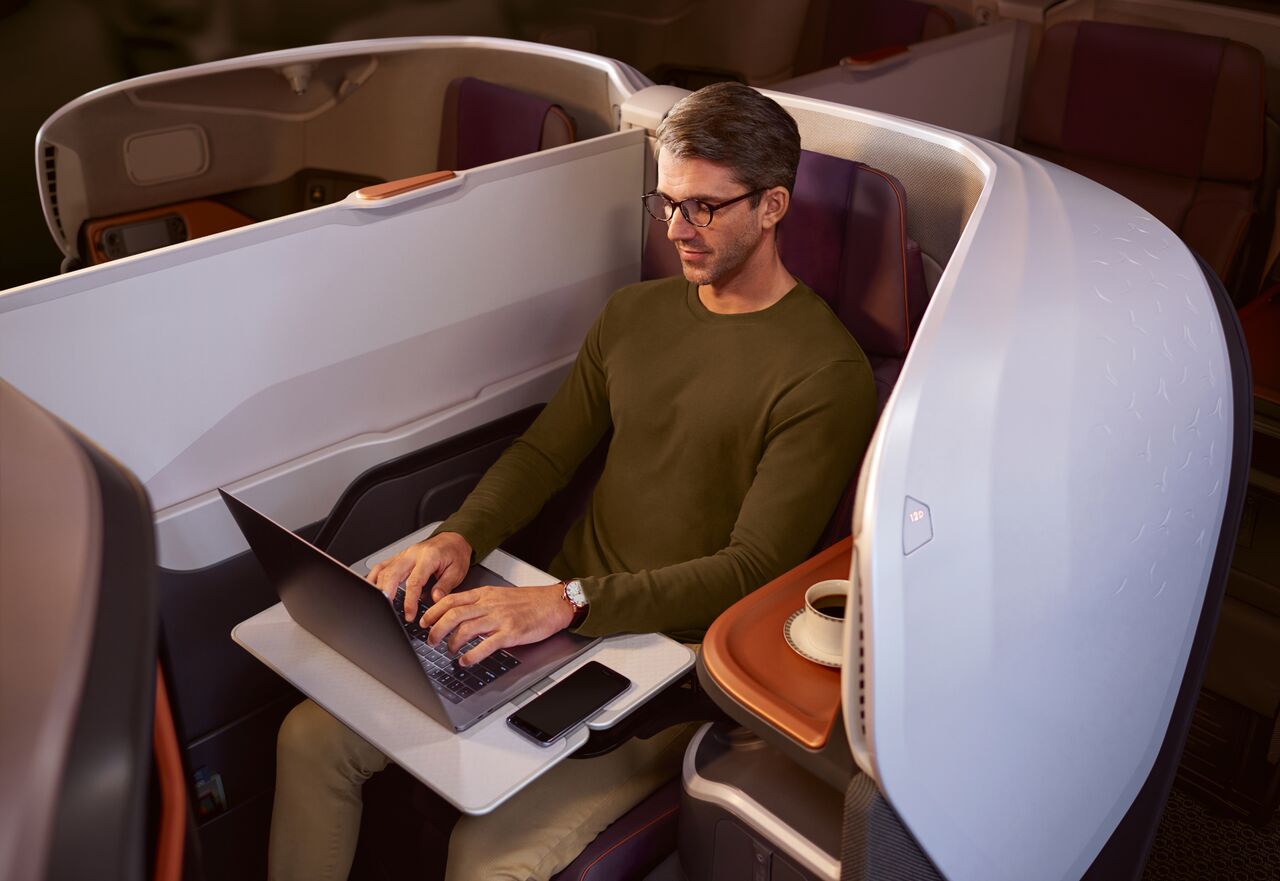 Emirates
Emirates is known for being one of the most luxurious airlines in the skies and it is the world's largest customer of the Airbus A380. If you travel onboard the A380 you'll be able to enjoy the airline's onboard bar, where you can stretch out and mingle with other jet-setters over cocktails and snacks. The latest Boeing 777-300ER features seats that have been designed to look like those of a sports car, with a stylish grey leather finish and cross hatch pattern. There's also an in-seat mini bar and a 23-inch entertainment system with touchscreen controller, so you'll feel like you have your own movie theatre in the sky. Amenity kits are designed by luxury Italian brand Bvlgari and contain skincare products from the brand's range.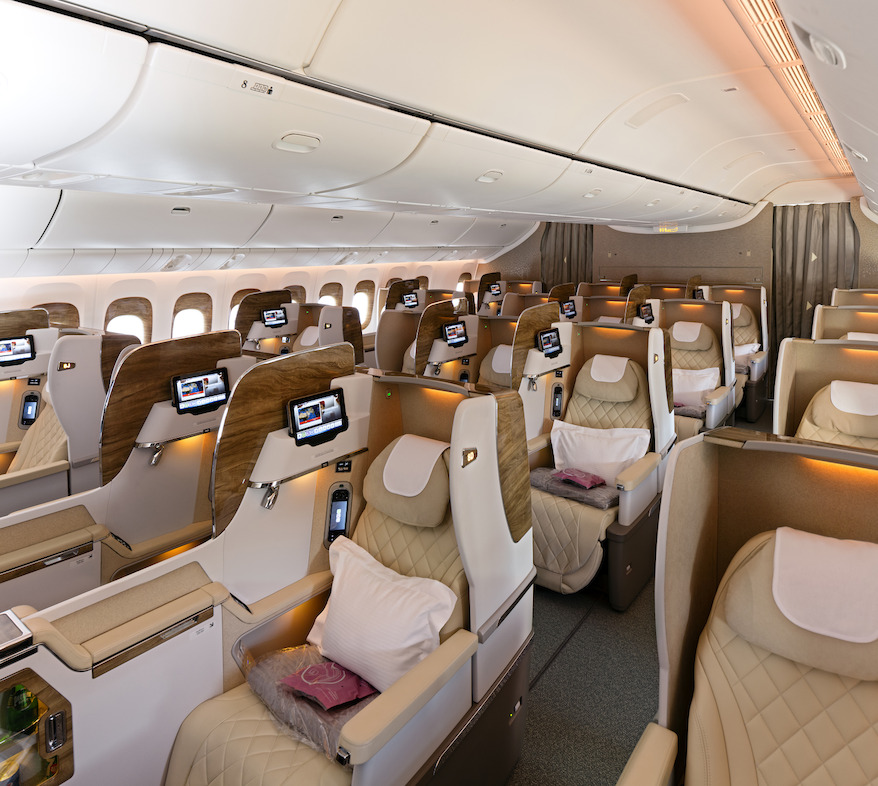 Etihad
Etihad's Business Studios on the 787 Dreamliner and Airbus A380 have a unique dovetail design with forward and rear facing seats, offering you increased personal space. The seat converts into a comfortable fully-flat bed of up to 6 feet and 8 inches and has plenty of space for personal belongings, including concealed storage, a meal table and a separate large side table that can be used for laptops. If you're travelling on the A380 then you can relax in "The Lobby", an area for First and Business Class guests that is inspired by the intimate spaces found in boutique hotels. In the UAE you'll be able to take a chauffeur-driven Mercedes Benz to and from the airport and enjoy a spa treatment in the Six Senses Spa at the airport.
Qantas
A perk of flying in Qantas Business Class is the complimentary chauffeur driver service, which will whisk you to and from the airport in style. You'll also be given a complimentary pair of pyjamas onboard the flight, which feature the airline's kangaroo logo and "Qantas" written on the back of the neck. In preparation for its first direct flight between the UK and Australia, Qantas has also opened a brand new lounge at Heathrow T3, which features a gin bar stocking over 14 different types of gin. Onboard the aircraft you'll have your very own "Skybed", which offers massage functions and can be reclined into a fully flat bed.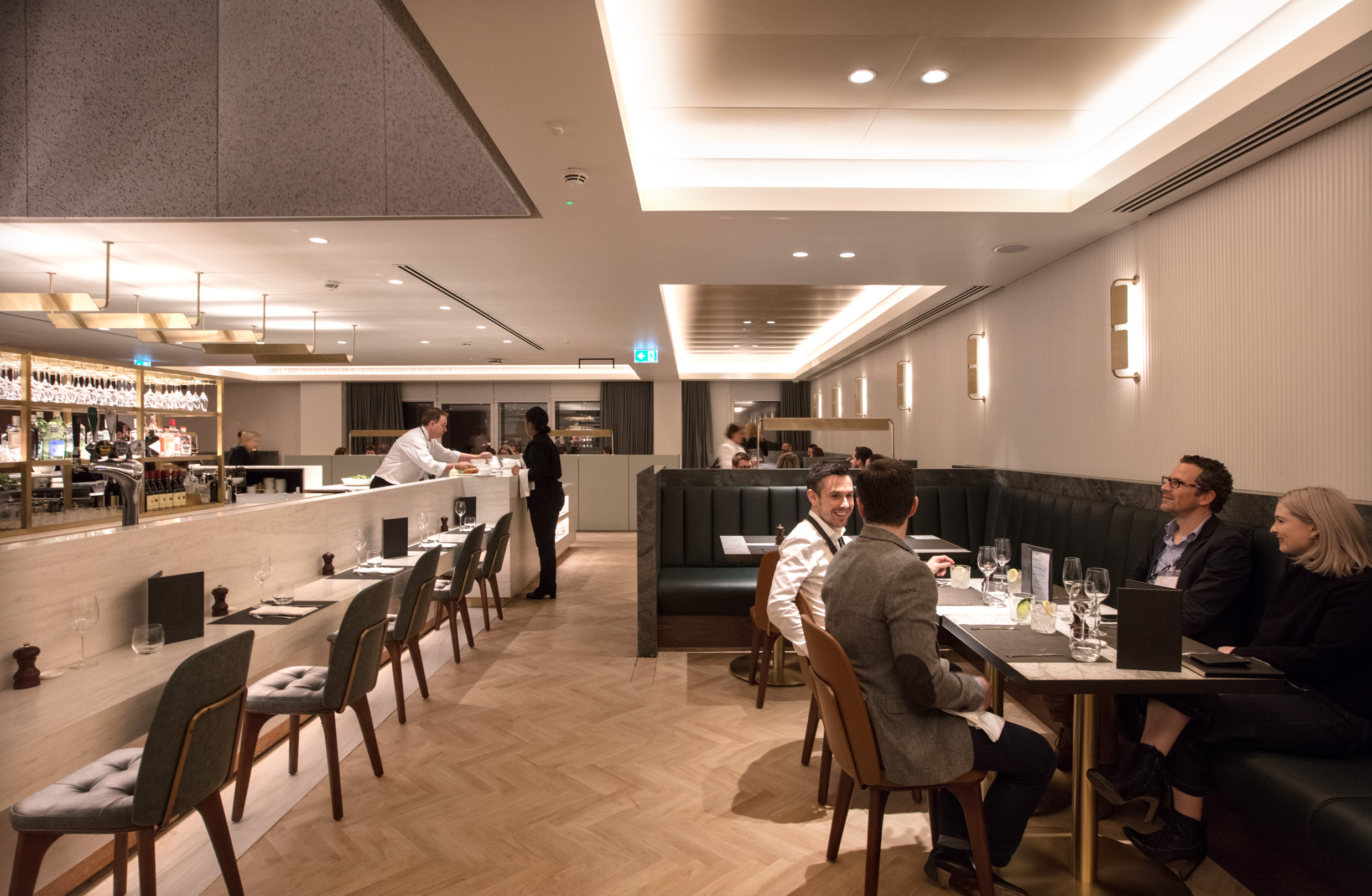 Cathay Pacific
Operating with a motto of "Life Well Travelled", Cathay Pacific provides a luxury amenity kit stocked with Jurlique skincare products as well as fluffy pillows and a soft-fabric duvet to help promote restful sleep. The seat has two pre-set settings for sitting and sleeping, plus controls for smaller adjustments. Flying Business Class gives you access to the airline's premium lounge at Heathrow, as well as multiple flagship lounges in Hong Kong.
Delta
Delta One features life-flat seats with Westin Heavenly bedding and full-height doors at every seat for enhanced privacy. Each seat is also equipped with a power port and 18-inch entertainment system and space for belongings such as shoes, headphones and personal decided. The amenity kit is designed by TUMI and contains Kiehl's Since 1851 products.
Air New Zealand
Air New Zealand is popular for flying from London to Los Angeles or onwards to New Zealand. If you fly the London Heathrow to Auckland route via Los Angeles the airline operates a Boeing 777-300ER, or if you decide to fly via Singapore, the Air New Zealand leg of your journey between Singapore and Auckland is operated on a Boeing 787-9 Dreamliner. Business Premier features a chalk coloured luxurious lie-flat bed that sports a thick memory foam mattress, cosy duvet and two full size pillows. There's also an ottoman footrest that doubles as a seat for visitors, along with a 12.1 inch entertainment system and in-seat power.
All Nippon Airways
ANA is the first Japanese airline to have a fully flat "Staggered Seat"* configuration and each seat is on the aisle-side so you don't have to worry about disturbing the passenger next to you. A highlight of flying with ANA is the dining service, which includes both western and Japanese options designed with the expertise of master chefs. You'll have the chance to enjoy traditional Japanese sake as well as a variety of Japanese dishes including ramen and rice bowls.
Malaysia Airlines
Malaysia Airlines places a huge emphasis on food, offering a Chef-on-Call service allowing you to reserve your meal up to 24 hours before the flight. If you're flying from London to Kuala Lumpur then you'll have the chance to fly on the airline's recently launched A350 aircraft, which features 35 Business Class seats that lie fully flat. The seats are Thompson XL Vantage seats, but are arranged in a 1-2-1, followed by a 1-2-2 configuration, so seats vary according to where you're sitting. When travelling through Heathrow you'll have access to the Malaysia Airlines Business Class lounge at Terminal 4, which features a mini spa and free WiFi.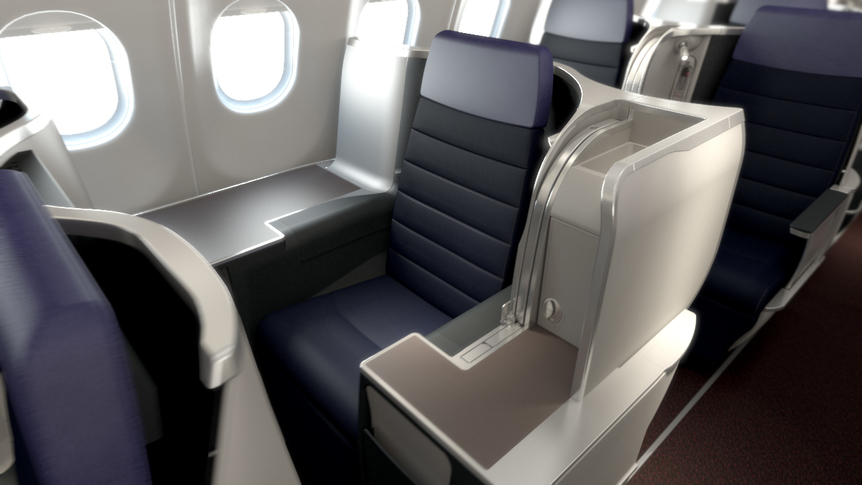 Air France 
If you're travelling to South America then you might find yourself flying with Air France via a stop in Paris. The new Air France Business Class seat reclines into a 6.5 metre fully flat bed and comes with an XXL feather down pillow and a soft duvet in glacier blue and warm grey. A nice touch is the personal storage compartment, which has an elegant red interior and contains noise-reducing headphones as well as a mirror. The 16-inch HD touchscreen is packed with movie blockbusters, foreign films, documentaries, TV series, music and games, so you'll have plenty to keep you occupied during the journey.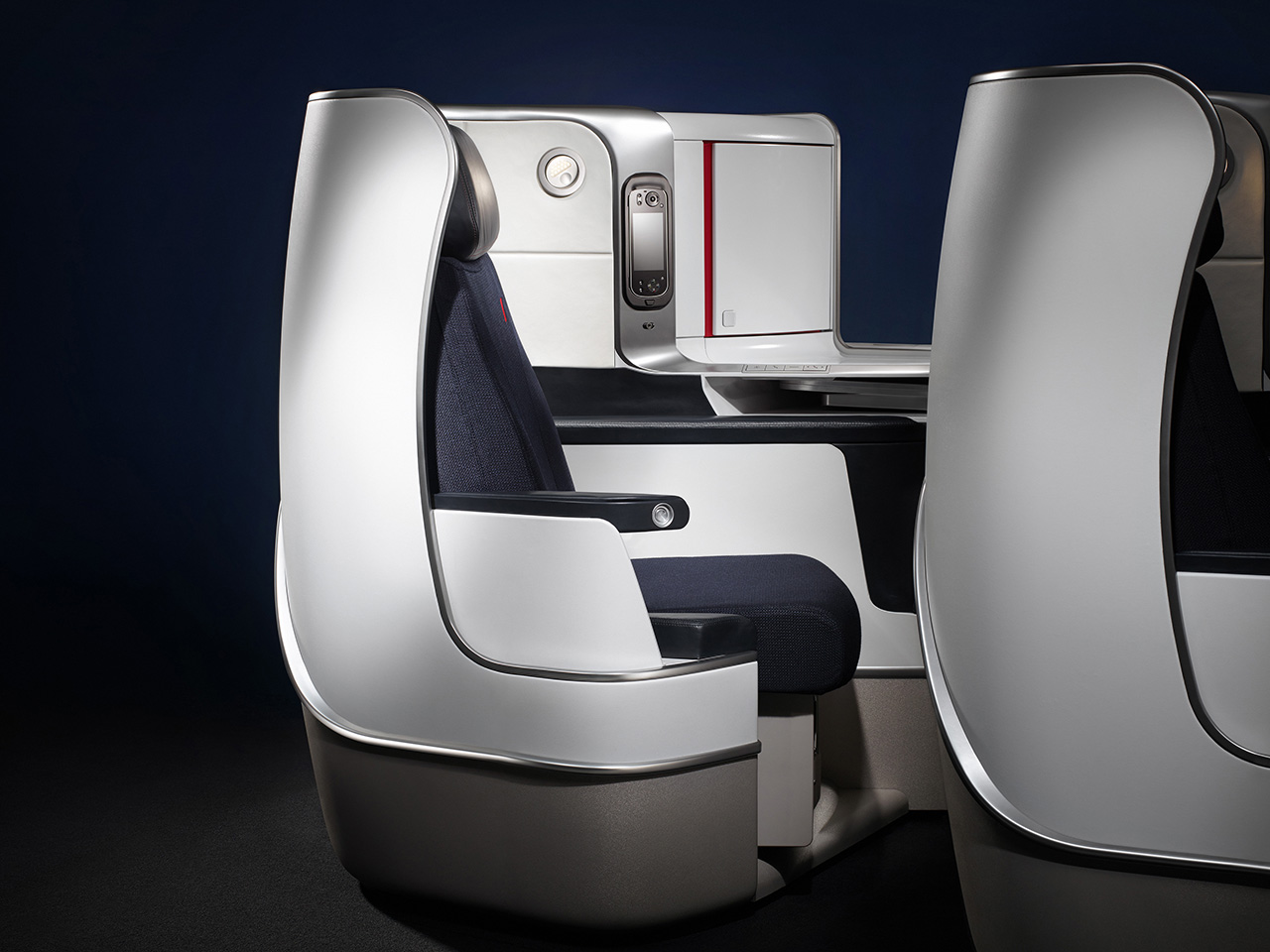 United Airlines
United Polaris features lie-flat beds and expansive storage spaces, plus luxurious stone-topped tables for working and dining. New bedding has been designed by Saks Fifth Avenue, which includes luxury duvets, day blankets, mattress cushions and large and small pillows available for each customer.
Of course there are many, many more airlines that fly Business Class out of the UK, including KLM, Air India, Air China, Hong Kong Airlines, JAL and LATAM. We can book any airline for any journey and our trained experts will be able to give you specific details about the airline you'll be travelling with.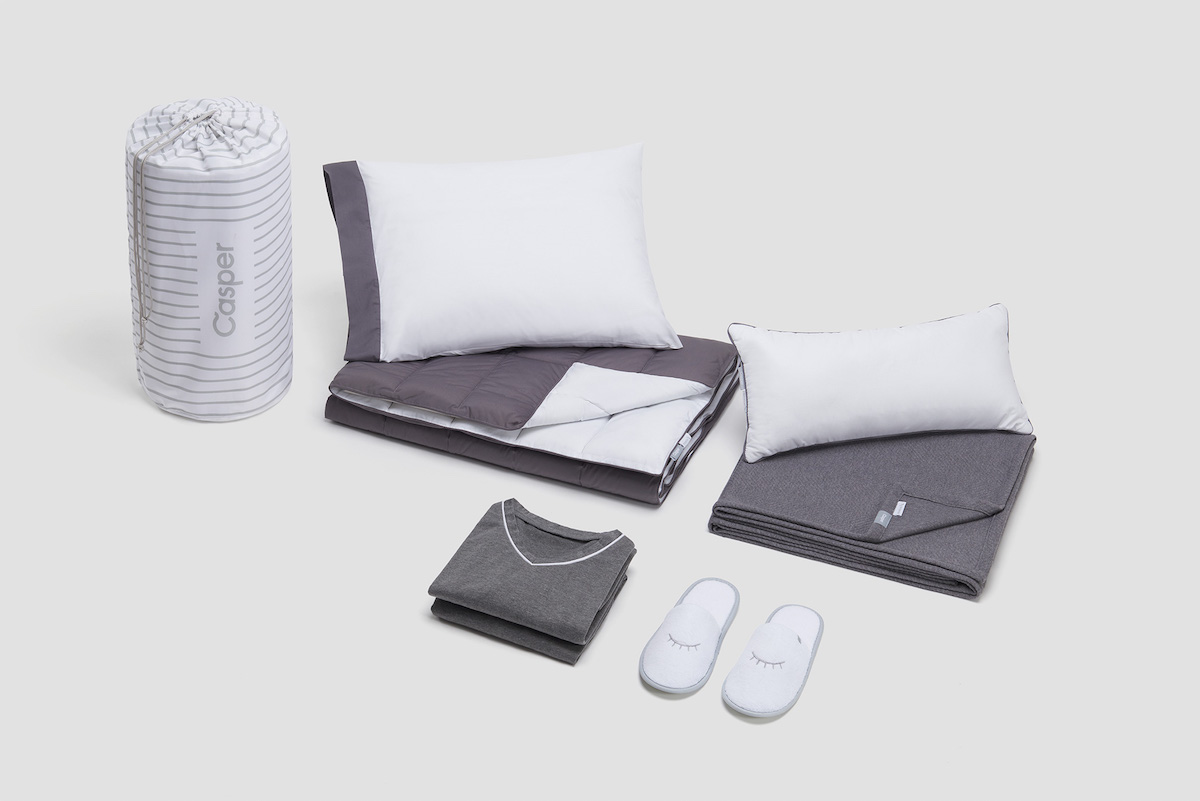 How to get cheap business class tickets from the UK
If you want to book cheap Business Class tickets, we're cheaper than booking with the airline direct. Simply give SkyClub a call and we will be able to find the best possible fare for your journey. We're able to offer you fares that are so good they can't be sold online, so let us know where you want to fly and we'll be happy to help.
For other ways to get cheap business flights, we've put together a handy guide on how to get a cheaper seat than the passenger sitting next to you. Lots of passengers use a combination of air miles credit cards and travel hacking to get cheap Business Class tickets or free Business Class upgrades. If you're unsure of how to earn air miles, don't forget to check out our beginner's guide to collecting air miles if you're in the UK.