The best cheap business class flights to Cancun we found for a client in the past month were for an amazing £1,701 return. To get today's best price simply complete the form on this page and we'll get back to you quicker than you can say Yucatán Peninsula.
Average flight time from London to Cancun: 10 hours 10 minutes
Airlines with Business Class Flights to Cancun from London: British Airways, Thomas Cook, TUI Airways
Airports in Cancun: Cancun International Airport
Distance from London to Cancun: 4,963 miles
Business Class flights to Cancun
British Airways flies direct from London Gatwick to Cancun with a journey time of eight and a half hours. When flying Business Class with BA you have access to the Club World Lounge at Gatwick's South Terminal, which features 469 seats and floor-to-ceiling windows with views of the runway. The lounge boasts a myriad of facilities, including hot and cold buffets, shower facilities and a separate work room.
Once you've boarded the plane you'll be able to relax in your own personal space with a seat that offers direct aisle access and a 10.4 inch entertainment screen. When it's time to sleep you can turn your seat into a fully flat bed and snuggle up in bedding provided by luxury British brand, The White Company. The seat also boasts all the usual features you'd expect to find in Business Class, including an amenity kit, power socket, noise cancelling headphones and USB ports.

Getting to and from the airport
Many visitors choose to hire a car when travelling to Cancun and you can do so by visiting the rental car centre at the airport. Taxis can be found outside the exit gates of Terminals 2 & 3 and tickets can be bought at the booths inside the terminal building. A cheaper option is to pre-book an airport transfer or shared shuttle before you go.
If you prefer a cheaper option, there are public buses from the airport that will take you to downtown Cancun and downtown Playa del Carmen. However, if you're staying in the Hotel Zone or another destination, you'll have to get a taxi from the bus station to the hotel. Once you've passed through customs you will find the "ADO" stand (ADO is the bus company name), right where the taxi booths are located. From the airport, ADO company offers periodic rides every 30 or 45 min. The seats are limited to 35 passengers per coach, so if you don't catch the first ride, you must stand there on the platforms and wait for the next bus to come.
Where to stay in Cancun
Cancun's "Hotel Zone" is thin stretch of land entirely geared towards tourism and is filled with all-inclusive resorts and luxury hotels. If you want to live in the lap of luxury then we'd recommend Le Blanc Spa Resort – an adults-only oasis with private butlers, who will unpack your luggage, make dinner reservations and even draw you a bath! The hotel is situated on a gorgeous stretch of beach, offering pristine infinity pools and world-class service.
Another great option is JW Marriott Cancun Resort & Spa, which boasts the largest spa in the whole of Cancun. The hotel offers 448 hotel rooms and suites with their own private balconies, luxury bedding and marble bathrooms. Other on-site facilities include an infinity pool, a wide variety of restaurant options and over 45,000 square feet of event space for special events or business gatherings.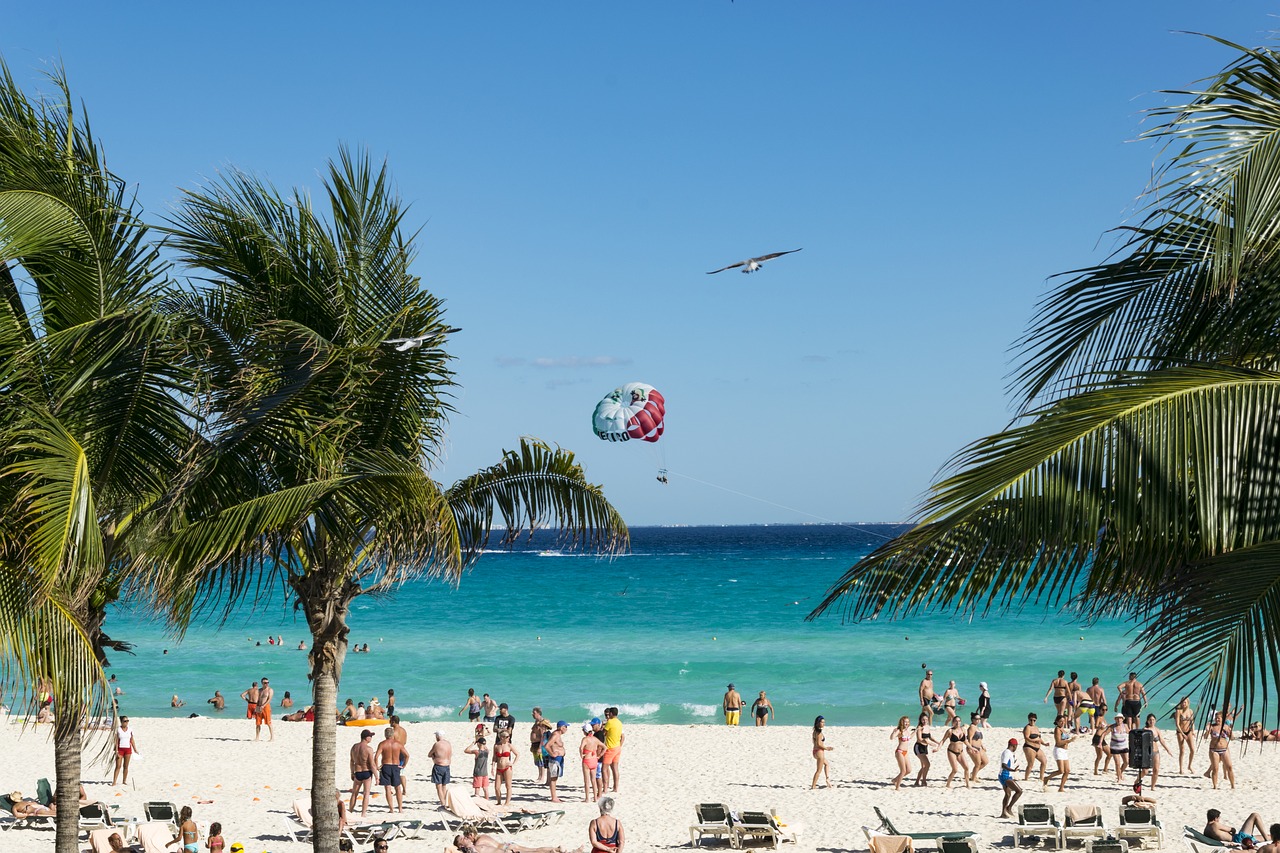 Things to do in Cancun
Cancun is known for its white sandy beaches, so most visitors plan to do only one thing: relax and soak up the sun. Aside from beaches and watersports though there are also numerous attractions in the wider area, including:
Chichen Itza – Chichen Itza is one of the most notable archeological sites in Mexico. This ancient Mayan pyramid was once a main hub of Mayan civilization and is now marked as a UNESCO World Heritage Site and one of the Seven Wonders of the World.
Isla Mujeres – Named after the Mayan goddess of childbirth and medicine, the "Island of Women" is only 5 miles long and boasts pristine beaches. If you're into scuba diving and snorkelling, then this is the place to go. When you've had your fix of sun, sea and sand, head to Hildago Street – a pedestrian street filled with boutiques and restaurants.
Xcaret Park –  Xcaret Park is a theme park, resort and eco-archaeological park offering attractions such as snorkeling, zip lining, river rafting and cave exploration. Here you can snorkel with fish in natural lagoons, visit archaeological sites and watch a spectacular light and dance show.
Practical Information
If you're a permanent British resident then you do not need a visa for tourism or business purposes when visiting Mexico. The weather in Cancun is usually hot and sunny, so don't forget to pack sunscreen and light, cotton clothing. Most rain falls during the months of June to October – this is also known for being "hurricane season", so make sure to check the forecast ahead of time. The currency in Mexico is Pesos – many venues will accept credit cards, and you can withdraw cash from ATMs or change currencies in most most hotels.
To get the best cheap Business Class flights to Cancun, simply complete the form on this page or call 0044 207 255 1234 to speak with one of SkyClub's fast and friendly experts.
We will find you special, discounted fares that are not available online. So, by the time you take your business class flights to Cancun, you'll feel happy knowing that you've paid less than the people seated nearest to you! Have a great trip and – if you want to save money – please book with SkyClub.
Further Reading:
Get cheaper business class flights than the person sitting next to you