The best cheap business class flights to Doha we found for a client in the past month were for an amazing £3,625 return. To get today's best price simply complete the form on this page and we'll get back to you quicker than you can say "Arabian Gulf".
Flight time from London to Doha: 6h 44min
Airlines flying direct from London to Doha: Qatar Airways
Airports in Doha: Hamad International Airport
Distance from London to Doha: 3,259 miles
Airlines with Business Class Flights to Doha from London
Qatar Airways is the only carrier to offer non-stop flights from London to Doha, although British Airways codeshares on this route. Qatar operates a mixture of aircraft on this route, including the A350, the A380 and the Boeing 777, so you have plenty of daily options to choose from. Business Class on Qatar Airways features lie-flat seats with ample storage space, along with a complimentary set of pyjamas by The White Company and an amenity kit amenities from Italy's Castello Monte Vibiano Vecchio, contianing lip balm, hydrating facial mist and anti-ageing moisturiser cream. If you're flying on the A380 you'll be able to stretch your legs, order a cocktail and chat to other guests in the onboard bar.
When flying out of Heathrow you'll get to use the airline's cosy First and Business Class lounge, which features calming Arabian water features, shower suites and an a la carte dining area. At Hamad International Airport you'll have access to the world's best airport lounge – the Al Mourjan Business Lounge – which feels more like a giant resort than a lounge. Spread over 10,000 square metres, the lounge is around 10 times the size of an Olympic-size swimming pool and features numerous different seating areas where you can relax and unwind. If you're in desperate need of some shut eye you can even visit the quiet rooms for a quick nap between flights.  There are numerous dining options within the lounge, including a sit down restaurant on the upper level.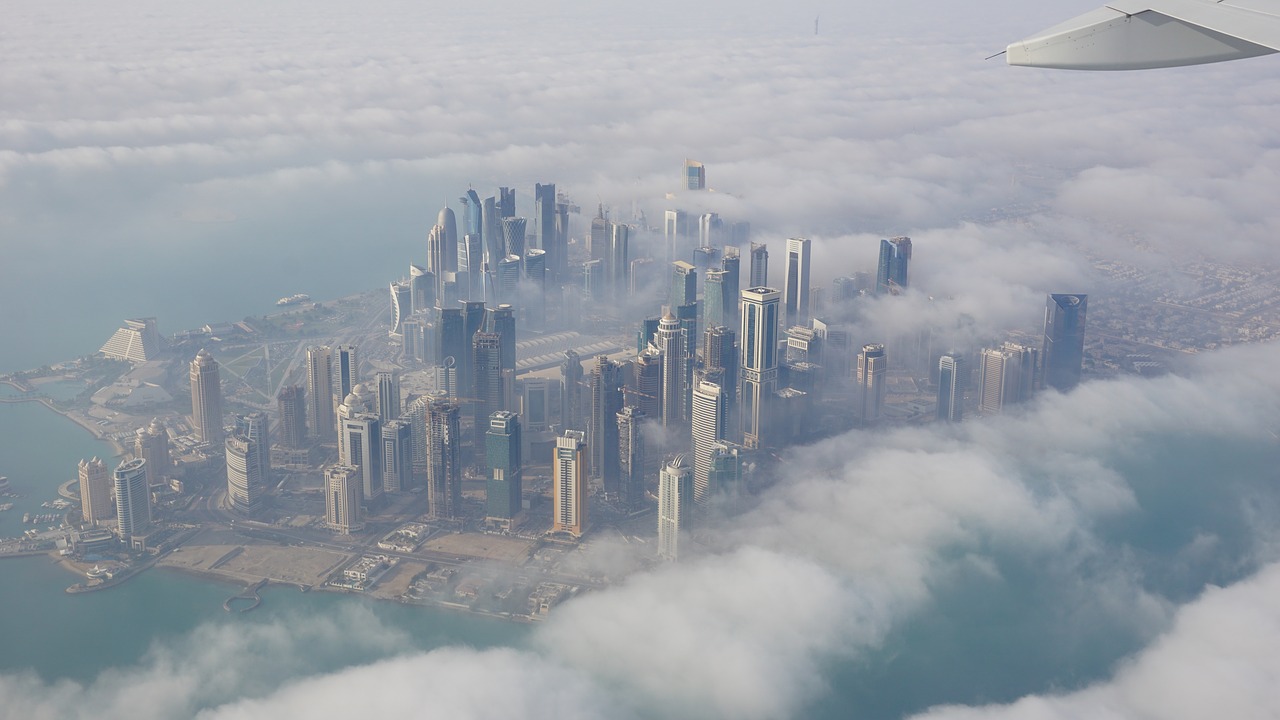 Getting to and from the airport
Once you've landed at Hamad International Airport you'll probably want to jump straight in a 'Karwa' taxi. Taxis can be found at the Taxi Pavilion located to the left hand side of the arrivals hall – all taxis are metered and the minimum flag down fare at the airport starts at QAR 25 (USD 7) and QAR 1.20 per kilometre between 05:00 AM to 09:00 PM and QAR 1.80 per KM between 09:00 PM to 05:00 AM. You can also choose from a range of rental car companies at the airport, although be aware you will need an International Driving Permit or a license issued from a GCC (Gulf Cooperation Council) country
Buses are also available operated by Mowasalat, Qatar's state transport company, and will connect you to destinations across the city. In order to ride the bus you must purchase a Karwa Smartcard from the Mowasalat Information Desk near Baggage Claim Belt 5 & 6. A QR10 Card (USD$3) will provide you with two inner-city trips within a 24 hour period.
Where to stay in Doha
Business class flights to Doha would be wasted without a stay in one of the following luxury hotels. SkyClub recommends The Four Seasons Hotel. The Four Seasons Hotel in Doha is a great all-rounder since it boasts excellent business facilities but also has a beach resort vibe. The hotel is known for being home to the world's largest Nobu, so if you love sushi and Japanese dining, make sure you book a table in the restaurant. The 17-storey hotel features a total of ten restaurants and lounges, a spa and wellness centre, a comprehensive business centre, five swimming pools, two tennis courts and a private beach, so you'll never be short of things to do.
Located in West Bay Doha, the W Hotel and Residences boasts 442 guest rooms with bold, funky interiors and a hip, modern vibe. You don't even have to leave your hotel to experience some of the best cuisine in the city, since the hotel boasts three fine dining restaurants and three Michelin stars. La Spiga by Paper Moon is a trendy restaurant serving Italian cuisine, while Spice Market serves South East Asian fusion cuisine in a sexy atmosphere. Other facilities include a spa, a gym and a WET deck featuring a heated pool, sunbeds and a poolside bar.
Things to do in Doha
Most visitors tend to spend just a few hours in Doha International Airport before jetting off on a connecting flight to somewhere else in Southeast Asia or Australia. Which is a shame, because Doha has plenty to see and do. If you're planning on making a short stopover for a couple of days, or perhaps visit for the World Cup in 2022, here are some activities you should put on your list:
Souq Waqif – For a taste of local culture head to Souk Waqif – an outdoor market with a labyrinth of alleyways selling and stalls souvenirs, fabric, spices, cafes & more.
Museum of Islamic Art – If you like museums then you'll want to head to the Museum of Islamic Art, which features displays tracing back 1400 years of Islamic art.
Corniche – The Doha Corniche is a promenade that follows a horseshoe shape along Doha Bay and is studded with palm trees and greenery. Take a stroll along the promenade for views and photos of the city skyline.
The Pearl – This man made island covers 400 hectares of reclaimed land and is packed with luxury residences, hotels, a marina, and plenty of shops.
Business Class Flights to Philadelphia, Practical Information
Full British passport holders are eligible for single-entry visa on arrival in Doha, which is valid for one month. Your passport should be valid for a minimum period of 6 months from the date of entry into Qatar. Some prescribed medicines may be considered controlled substances in Qatar, so make sure you check out the full list of banned medicines before you go. To be on the safe side, always travel with your prescription and medicines in original boxes.
Remember that Qatar is a Muslim country so you must be aware of cultural sensitivities. Always dress modestly in public, even while driving. Women should avoid short skirts and cover their shoulders and it's important to remember that intimacy in public between two people can lead to arrest. It's also an offence to drink alcohol or be drunk in public, so make sure you only consume alcohol in licensed hotel restaurants and bars. If you are travelling during the month of Ramadan, you must not smoke, eat, drink or chew gum in public during daylight hours, but some tourist restaurants will remain open and hotels will often have screened-off sections for Western tourists.
We will find you special, discounted fares that are not available online. So, by the time you take your business class flights to Doha, you'll feel happy knowing that you've paid less than the person seated nearest to you! Have a great trip and – if you want to save money – please book with SkyClub.
Further Reading: