The best cheap business class flights to Taipei we found for a client this month cost £1,750 for a return ticket. Find the best deal on flights today by completing the form on the left of this page. We'll get back to you faster than you can say "Capital of Taiwan!"
Average flight time, business class to Taipei from London: 13 hours 5 minutes
Airlines with direct business class flights to Taipei from London: China Airlines
Airports in Taipei: Taiwan Taoyuan International Airport, Taipei International (Songshan) Airport
Distance from London to Taipei: 6,076 miles
China Airlines has business class flights to Taipei from London
All business class flights to Taipei land at the Taiwan Taoyuan International Airport and take off from either London Heathrow or London Gatwick airports. Only China Airlines (run by Taiwan and not to be confused with mainland China) flies directly to Taipei (leaving from London Gatwick).
Direct flights are on the new  Airbus A350s, give you access to premium lounges with a la carte dining options and featuring comfortable, semi-private in-flight seating.
Getting to and from Taipei airport
The airport is roughly 1 hour's drive to Taipei. A private taxi is an easy way to get to your hotel, costing less than  £40 to get into the city centre.
The quickest way into Taipei city is to take the MRT express train. Make use of luggage porter options or stow your suitcase in the wide areas available. The express train takes a quick 36 minutes to get to Taipei's main train station.
It's worth getting a public transport card while in Taiwan as the train system is a convenient way to travel throughout the city.
Where to stay in Taipei
Compliment your business class flights to Taipei with a stay at one of the city's top hotels. The Mandarin Oriental is perfect if you are visiting on business due to its quiet location in the city's commercial district. One of the most luxurious hotels around, the walls are covered by some 1700 works of art and decor is inspired by the most beautiful French chateaux.
In the middle of the upmarket Xinyi business district, W Taipei hotel exudes a quirky character and opulence. During your stay, head to the vibing WOOBAR for fun after work drinks grab a table at the YEN restaurantfor a delightful meal of dim sum.
Things to do in Taipei
Don't be dissuaded if it's raining during your stay. Taipei has plenty of underground shopping malls and gaming arcades for you to explore while you wait for sunny skies!
Yehliu Geopark – Go to the Yehliu Geopark to see some of the most fascinating rock formations in the world. Shaped by the elements, the view will take your breath away.
Go to a night market – Night markets are the lifeblood of Taipei city and an unmissable experience. Head out after dark and pick up delicious street food or play fun arcade-style games.
See the Taipei 101 – The Taipei 101 is one of the worlds tallest skyscrapers. Take a super-fast lift up to its observation deck and be amazed at the city beneath you.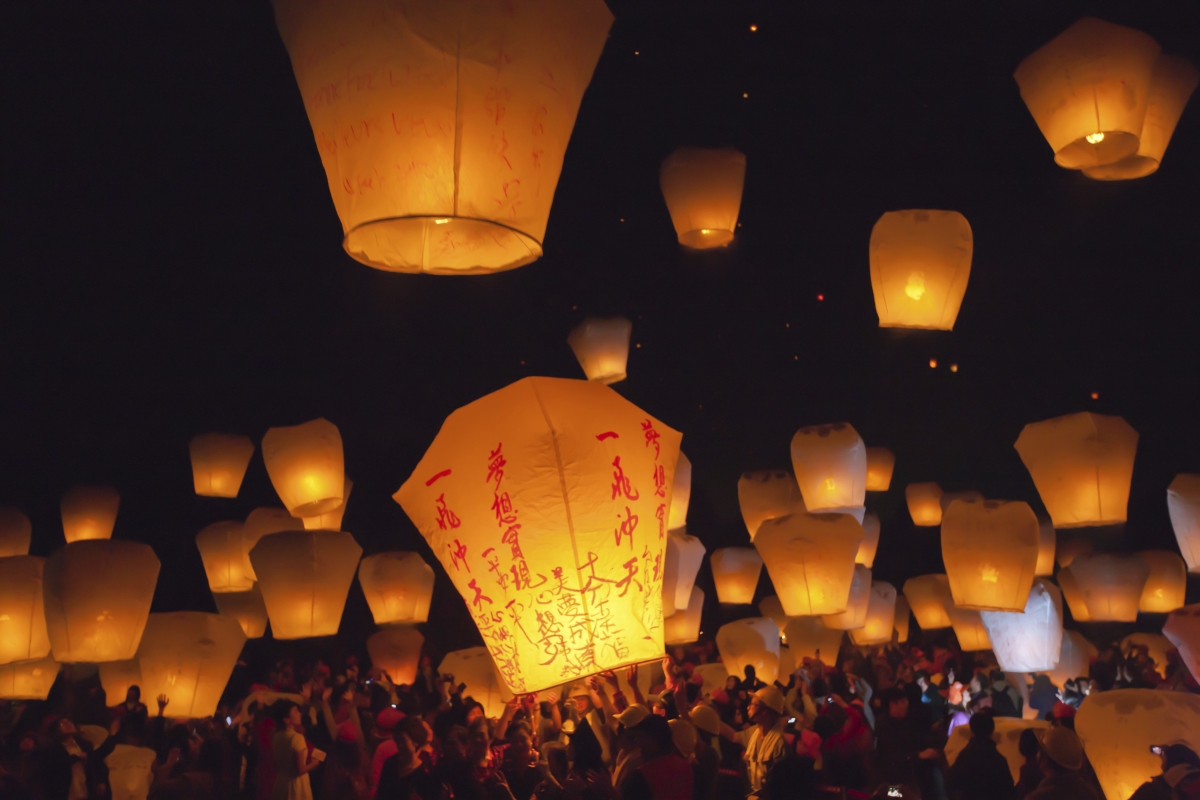 Taipei Bucket List Experiences
In a recent SkyClub survey, we asked over 1,000 of our clients "what's number one on your bucket list?"
Your answer? Something that's truly adventurous and daring. Here's some once in a lifetime bucket list experiences in Taipei.
Spectacular – Head to Pingxi and light a floating glowing paper lantern. If you visit in March, you'll be able to see the incredible sight of thousands of lanterns released into the night sky in a single instant.
Sky – Paraglide over pristine beaches in the beautiful Wanli area.
Summits– From waterfalls to city night views to serene vistas, there are plenty of hikes available for all fitness levels.
Business class flights to Taipei, Practical Information
British citizens do not need a visa for Taipei and enjoy a 90-day visa exemption. Just hop on the plane and away you go.
No matter the season, it rains in Taipei almost every day. During monsoon season, rain is heavy and constant, but other times of year see a light drizzle that quickly clears up into blue skies. In the summer (June through to August), temperatures can reach upwards of 30 degrees Celcius and the air is heavy with humidity. Bring light clothes and always carry a small umbrella with you.
To get the best cheap Business Class flights to Taipei, simply complete the form on this page or call 0044 207 255 1234 to speak with one of SkyClub's fast and friendly experts.
We will find you special, discounted fares that are not available online. So, by the time you take your business class flights to Taipei, you'll feel happy knowing that you've paid less than the people seated nearest to you! Have a great trip and – if you want to save money – please book with SkyClub.
Further Reading: