There are few things in life that will spark as much envy as flying First Class. With perks such as private suites, standalone beds, luxury pyjamas and chauffeur-driven limousines to the airport, flying has never been so good. Airlines are continuously trying to out-do each other by introducing game-changing First Class products, but which airline has the best First Class?
In the annual Skytrax World airline awards 2017, Etihad Airways came out on top as the best First Class airline, followed by Emirates, Lufthansa, Air France and Singapore Airlines. Here are the top 10:
1. Etihad 2. Emirates 3. Lufthansa 4. Air France 5. Singapore Airlines 6. ANA All Nippon Airways 7. Cathay Pacific 8. Qatar Airways 9. Japan Airlines 10. Qantas
But what do SkyClub customers think? Over 1,000 of SkyClub's customers completed a survey on travel trends, where we posed the question "For first class, which airlines do you prefer?" Here were the results:
The results – which is the best First Class airline?
Overall in our survey of over 1,000 customers, Emirates came out on top, followed by British Airways, Singapore Airlines, Etihad, Qatar Airways, American Airlines and Lufthansa.
However, when we narrowed it down, the answers varied amongst different types of travellers. Leisure travellers like Emirates more than anyone, while business travellers more or less have a neck on neck preference with Emirates and British Airways. We found that business bookers (people who book for other people) prefer British Airways.
Like leisure travellers, celebs, actors and musicians tend to love Emirates too, although many of them also said they had no preference.
A closer look at the best First Class airlines according to SkyClub customers…
Emirates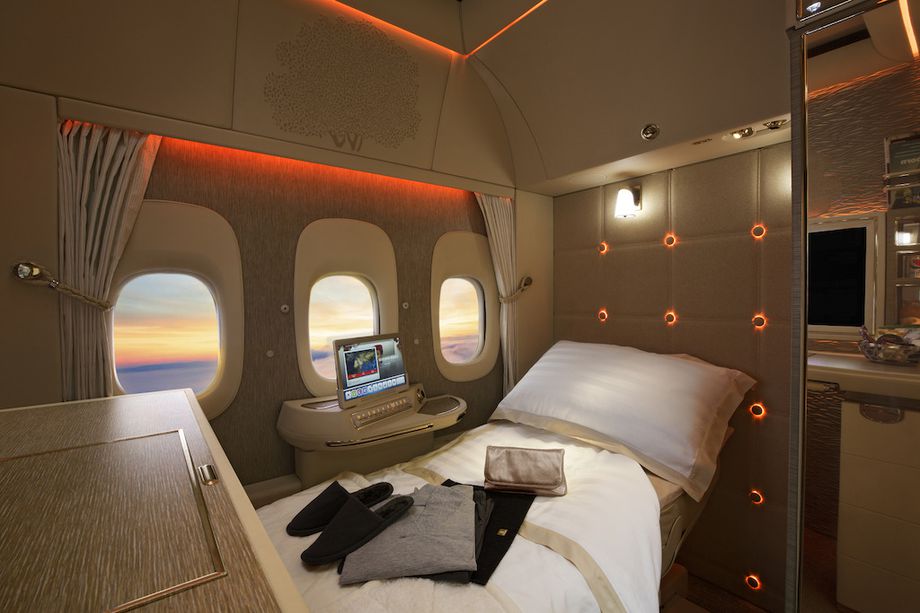 Emirates is known for offering First Class Shower Spas for First Class customers travelling on the A380, stocked with Bulgari toiletries and signature organic seaweed VOYA products. Passengers can also stretch their legs and relax in the onboard lounge, which features a 55-inch flat screen TV and a bar staffed by specially trained bartenders.
Meanwhile the new Boeing 777 is a game changer for First Class travel, featuring six luxurious suites with floor-to-ceiling doors and enough space to walk around. Seats have a zero gravity setting and have been designed to resemble the seats inside a Mercedes Benz S Class, allowing passengers to sit back in comfort. Passengers sitting in the middle suites won't miss out on the view either, since Emirates has installed "virtual windows" with HD projections of the outside world.
All First Class guests are provided with moisturising pyjamas that release sea kelp to hydrate the skin, along with a pair of slippers, an eye mask and a sheepskin-like blanket. If that's not enough, the airline offers exclusively designed leather-look Bulgari amenity kits containing Bulgari's signature fragrance and plenty of luxury skincare essentials.
British Airways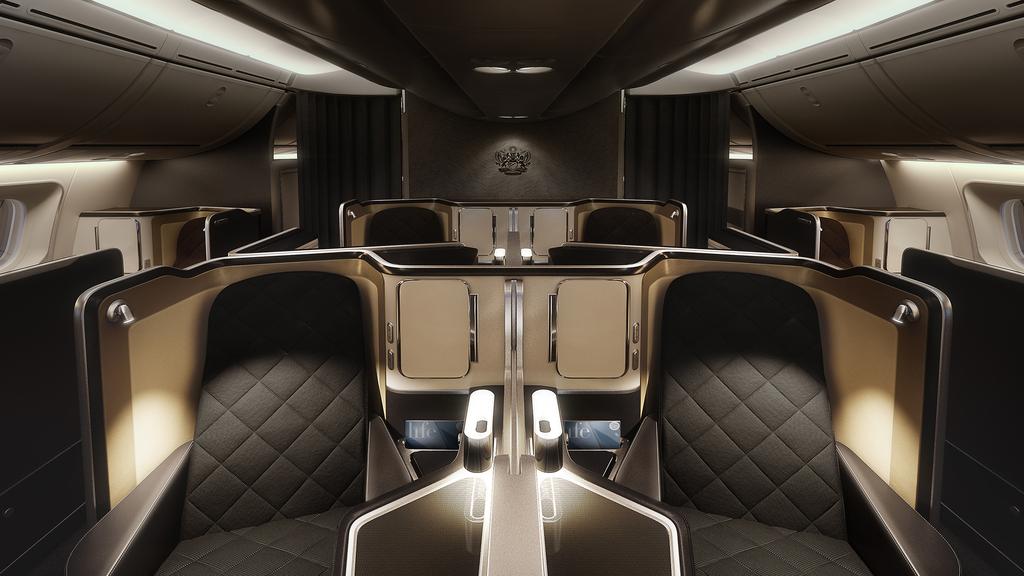 A firm favourite with SkyClub customers, British Airways' First Class cabin is elegantly designed with private, spacious suites. The 787 Dreamliner features 8 suites instead of the usual 14 and also features a larger entertainment screen with a new touchscreen handset. On all aircraft types the First Class seats convert into lie-flat beds measuring 6ft 6inches long with a luxurious quilted mattress, crisp white cotton duvet and pillow. Passengers receive a pair of cotton pyjamas to change into, along with an amenity kit designed by luxury British brand, Liberty London. At Heathrow Airport airport passengers have access to the newly revamped Concorde Room, which features a "best of British" design and full a la carte restaurant.
Etihad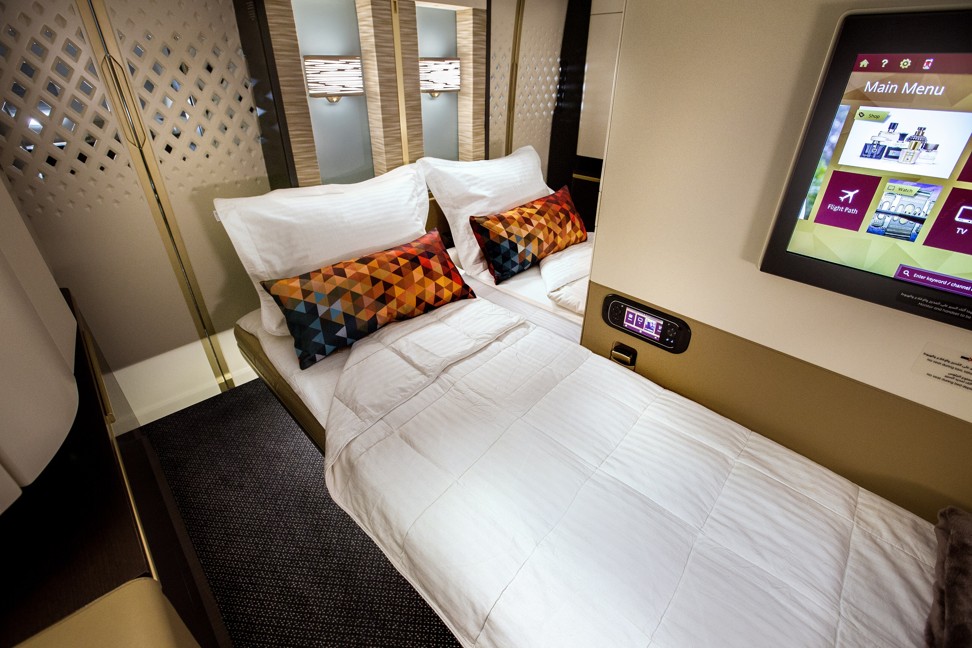 Etihad's A380s First Class apartments provide passengers with their very own bedroom in the skies, complete with a large leather armchair, vanity unit, full-length wardrobe and a separate bed of 6 feet and 10 inches. Six of the suites are interconnecting, which is great for passengers who are travelling together. The airline also offers onboard showers on the A380, as well as an exclusive onboard lounge called "The Lobby", which has been designed to look like the lobby of a boutique hotel. Located on the Upper Deck of the A380 between First and Business Class, The Lobby has seating for up to six people and is fitted with a widescreen TV, power supply and connectivity ports should guest wish to conduct business meetings.
Singapore Airlines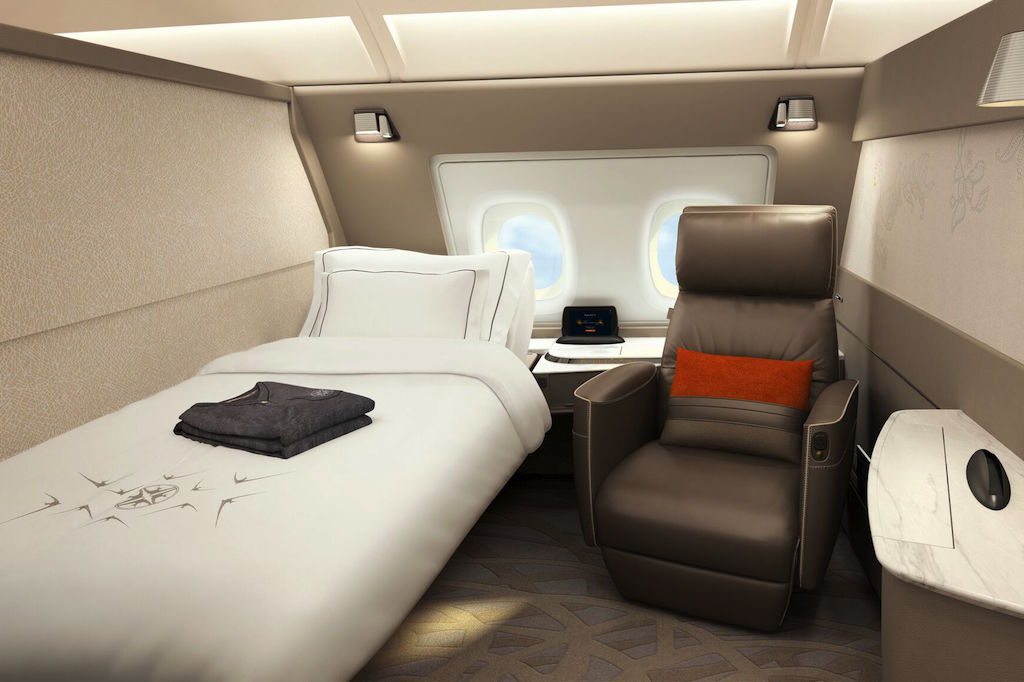 Singapore Airlines recently wowed everyone with the reveal of its new A380 First Class suites, which feature a standalone bed and separate Poltrona Frau leather armchair that freely swivels. Passengers travelling with a loved one can book the double suites, where the centre divider between rooms can be retracted to make way for a double bed. Each suite has a 32″ touchscreen monitor and a wireless tablet that allows guests to control everything in their suite from lighting to room service. Other features include an en-suite wardrobe, leather padded compartments and a sliding door for ultimate privacy.
Qatar Airways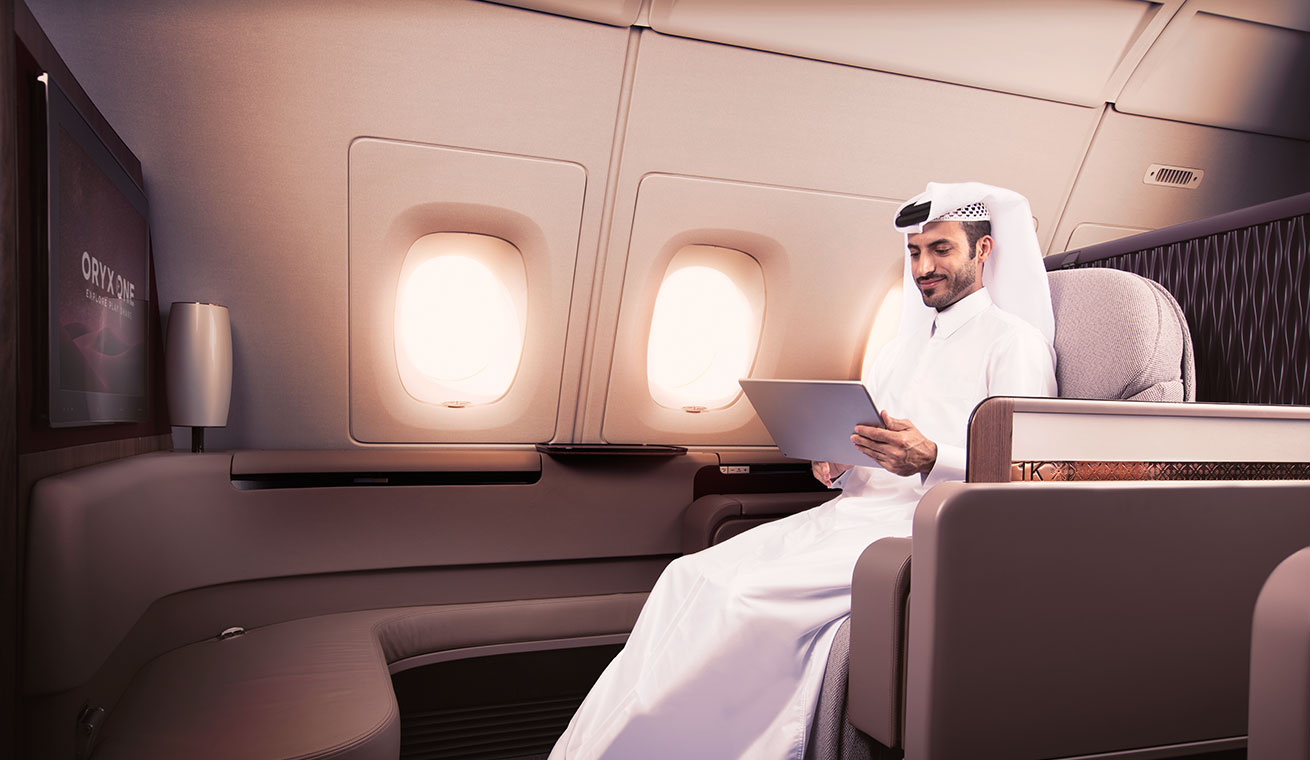 First Class suites on Qatar Airways have a vast amount of legroom, ample stowage options and an ultra-comfortable fully lie-flat bed with Frette linen and a duvet. The ultra large tray table can function as a work desk, or it can be transformed into a restaurant-style dining table with white linen, big enough to seat two people. Guests receive Bric's amenity kits and designer sleeper suits by White Company, as well as enjoying an on-demand menu service with signature dishes created by top chefs.
American Airlines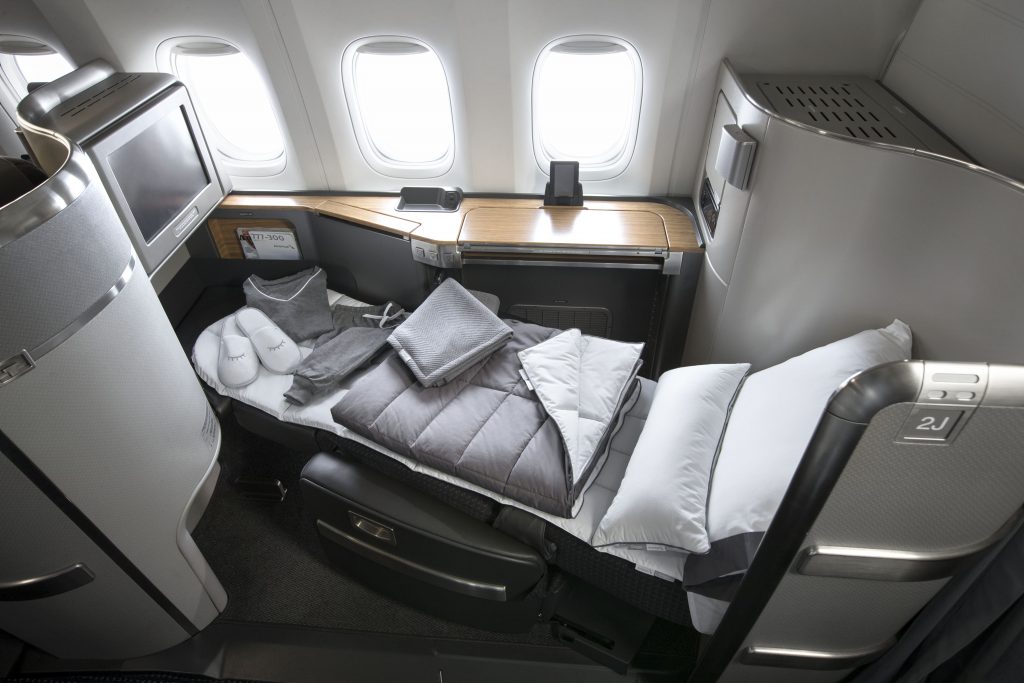 American Airlines partnered with hip sleep company Casper to bring custom-designed bedding to its long-haul First Class cabins. Casper designed a mattress pad, duvet, pillow, day blanket, lumbar pillow, pajamas, and slippers to ensure passengers get the best possible sleep during the flight. Customers travelling in Flagship First also receive an amenity kit with travel essentials from leading skincare and lifestyle brands C.O. Bigelow and Cole Haan.
Lufthansa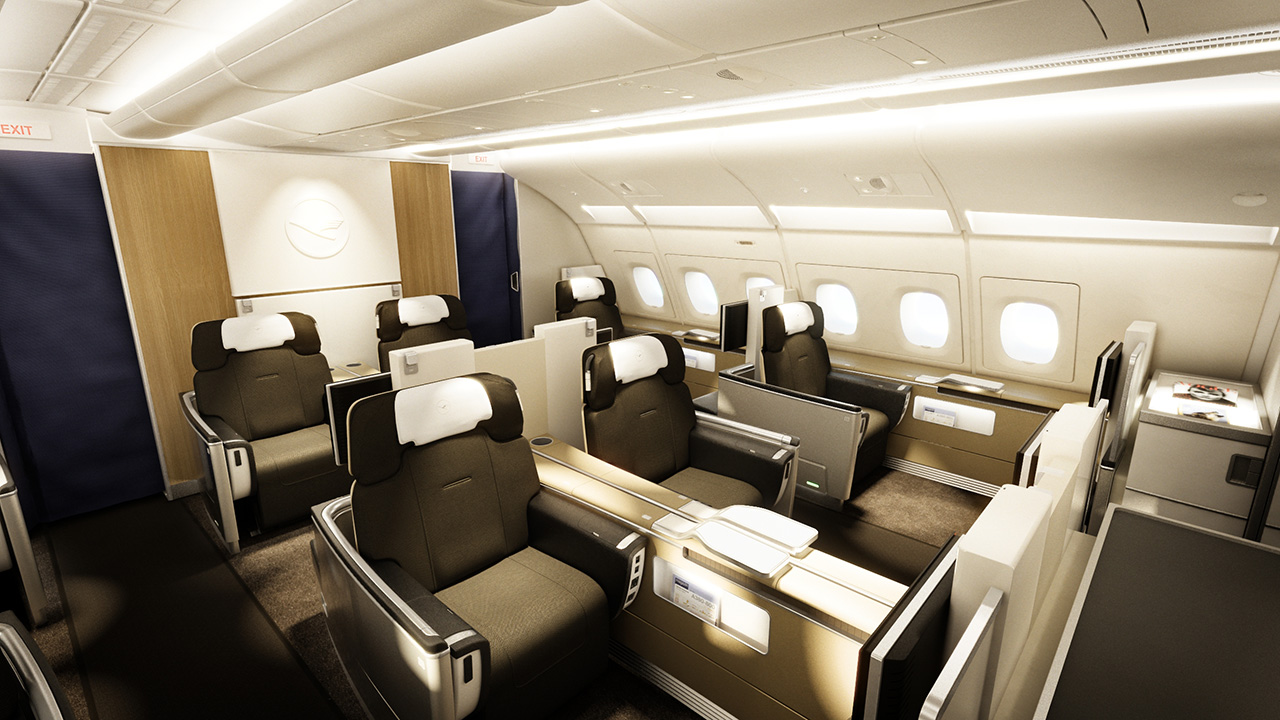 First Class passengers really get the royal treatment when flying with German airline Lufthansa. The airline has a special First Class Terminal at Frankfurt airport and transports customers to the plane in either a limousine or an exclusive minivan. The First Class Terminal has everything you could possibly imagine and more, including relax chairs, quiet rooms with day beds, spacious bath and shower rooms, cuisine by Michelin-starred chefs, a Cigar Lounge and a bar where the drinks include more than 130 different varieties of whisky. Lufthansa's First Class seats can be adjusted to suit customers' needs and convert into two-metre long beds with comfortable mattress toppers and temperature-regulating duvets. Here we've listed 4 reasons to fly Lufthansa First Class.
The best Business Class airlines in the skies
Our unbiased and independent research was conducted by a third party in order to determine which airline Britain's Business Class  customers feel has the best First Class. Emirates is clearly the winner, although it's clear from the data that British Airways is also a firm favourite.
Clearly Emirates' perks, such as moisturising pyjamas, Bulgari amenity kits, First Class shower spas and luxury suites, make Emirates the airline of choice when flying First Class.
Curious about First Class? Don't forget to check out our ultimate guide to travelling First Class from the UK, which features info about all the different airline products.