At SkyClub, we are frequently asked 'which airlines have the best business class to Australia'. This is because there are plenty of people in the UK who have personal and business ties with Australia. Strong as they may be, however, the journey down under is one of the most arduous in the world of air travel, with 23 hours separating Heathrow to Sydney, layovers included.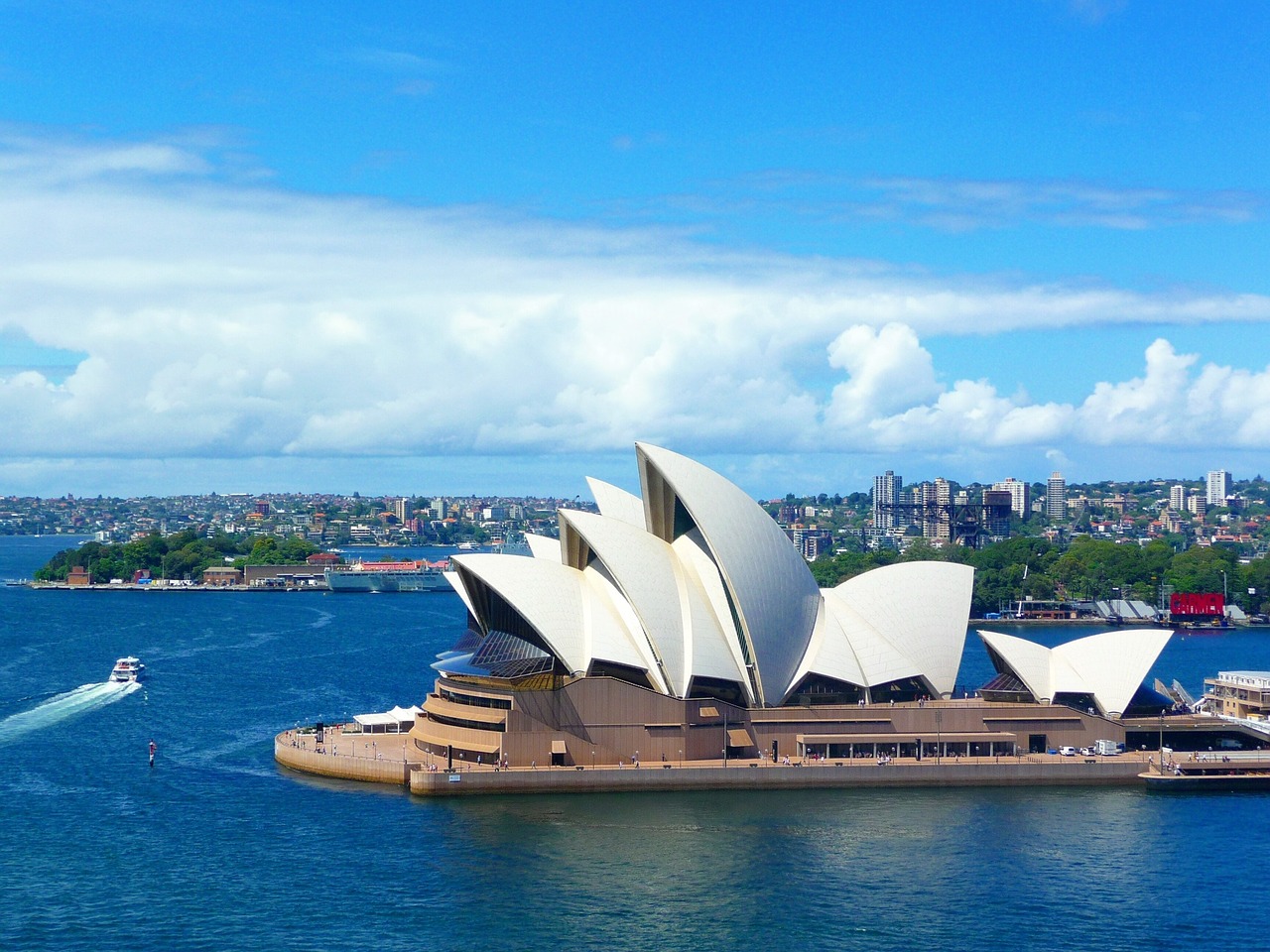 Since you'll be travelling almost an entire day and night just to get there, it's definitely worth flying Business Class to make the time fly by faster.
At the moment there are no direct flights to Australia but Qantas is soon to change that with the launch of a non-stop flight from London to Perth in March 2018.
In the meantime, which airline has the best business class to Australia? Let's take a look at the options:
Best business class to Australia from London
Qantas
The national carrier of Australia, Qantas is an obvious choice for the best business class to Australia from London. The VIP service starts the moment you leave the door with a complimentary Chauffeur Drive service and dedicated business check-in.
Once you've checked in you'll be able to bypass all the security lines with Express Path Immigration and premium boarding lane.
The Qantas Lounge at Heathrow Terminal 3 is a new, flagship global lounge split over two levels. Features include a Rockpool menu and dining experience, full-service bar with Rockpool cocktails, full bathroom facilities and showers, business facilities and a children's zone.
Onboard the aircraft you'll enjoy 'Skybeds' that convert into a two metre fully flat bed with mattress, duvet and turndown service. The seat comes equipped with massage function, a 21″ entertainment screen, extensive storage space and a reading light so you can settle in with a good book. You'll also be given a set of pyjamas and amenity kit featuring art work from Australian artists.
Emirates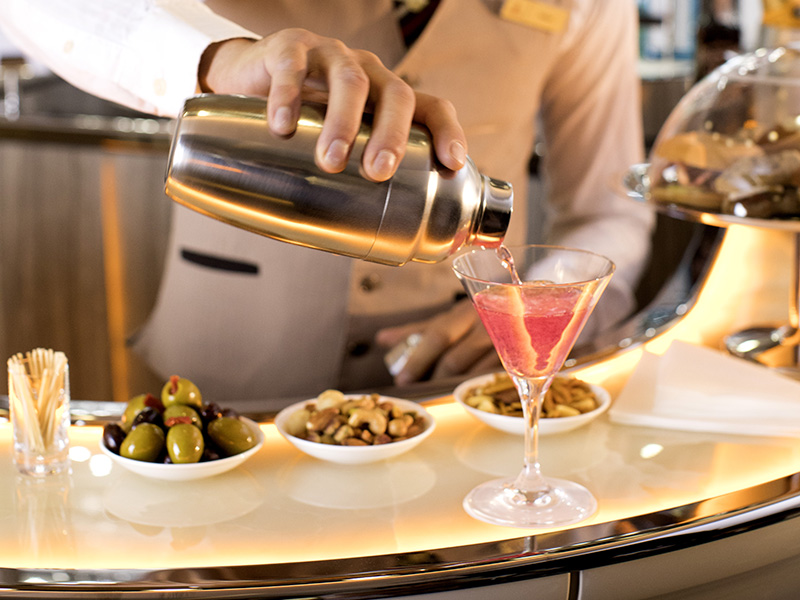 Widely lauded as one of the world's best airlines, Emirates is a fine decision for anyone making the long trek Down Under. But do they have the best business class to Australia? Traveling to Sydney via its hub in Dubai, the A380 it uses has been likened to a hotel by many of its customers. With the attention to detail they pay to every aspect of the flying experience, it's hard to disagree with that assessment.
To start, flight attendants adhere to a standard of customer service which has them conversing with fliers like they were their long lost friend from uni. Meals are served on fine china, with prawn biryani and stuffed chicken breast being just a few of the options on the menu.
Like their competitors, Emirates has a robust on-board entertainment system, but with an added touch: they offer movies on board which are still running in theatres. It's these touches and others that will make time fly by on one of the world's longest air routes.
Etihad Airways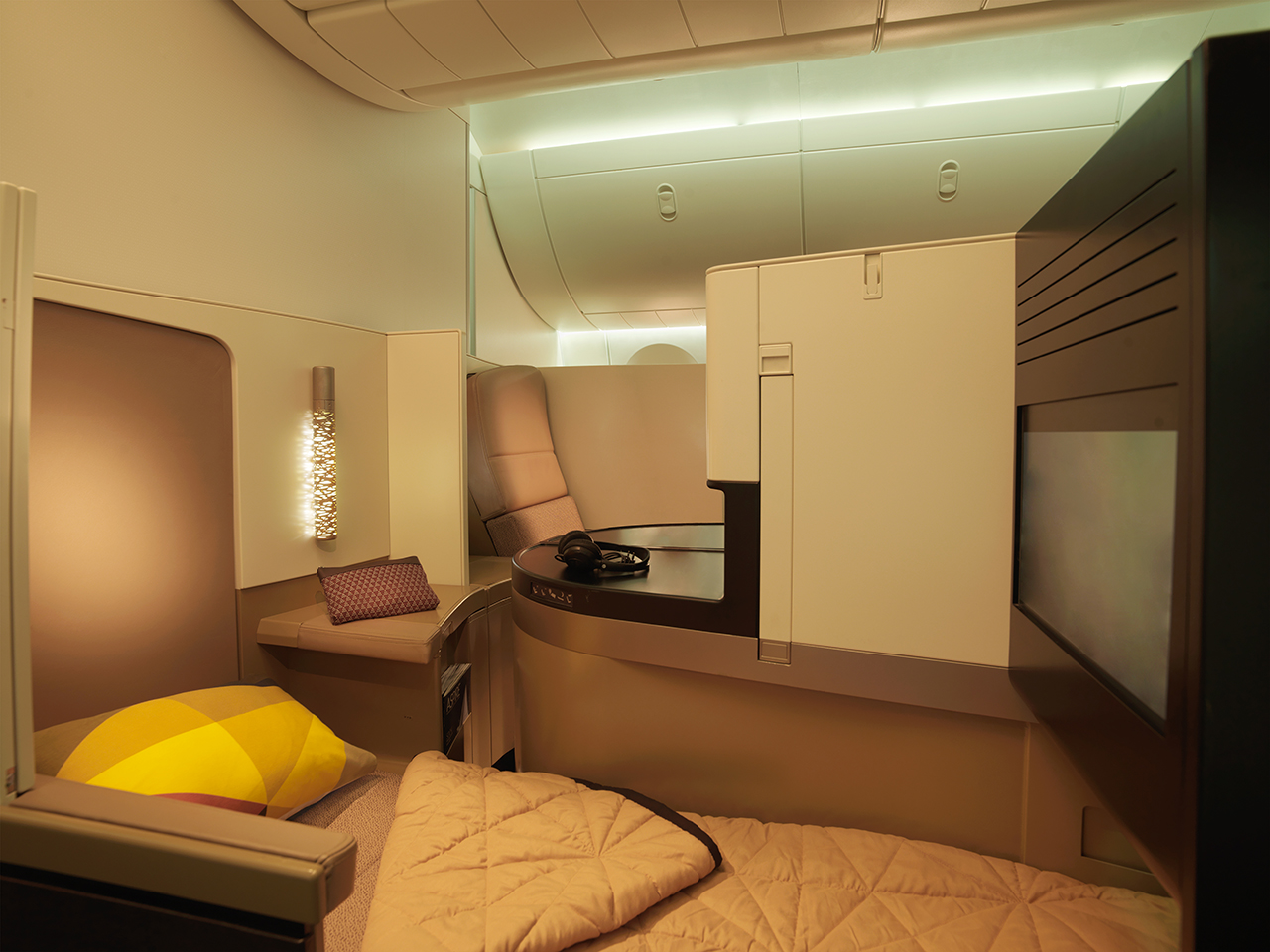 Thanks to its proximity to their rivals in Dubai, Etihad offers a standard of service on their business class flights that make them an equally good choice for travelers looking to get to Sydney in style.
They also use the massive A380, giving them plenty of room for super luxury touches like The Residence. However, if you don't have the £23,000 it costs to have a bedroom, a sitting room, and a private bathroom to yourself, you can still while away the hours between Heathrow and Sydney in luxurious comfort, as their business class studio ranks head and shoulders above most other airlines in the world.
Your experience with Etihad begins at your front door, as a chauffeur will drive you to the airport in a luxury sedan. Once aboard the aircraft, you'll love how business and first class is separated from the rest of the plane, as all passengers in privileged seating occupy the top tier of the plane, while those in economy are seated on the other level.
Each seat comes with aisle access, generous dimensions, a remote which adjusts its firmness, and a tray table that is big enough to function as a desk. Breaking with airline tradition, you can order food anytime you wish, and with a wide selection of alcoholic drinks that includes Champagne Jacquart, you might find it hard to leave the plane upon arrival in Australia.
Singapore Airlines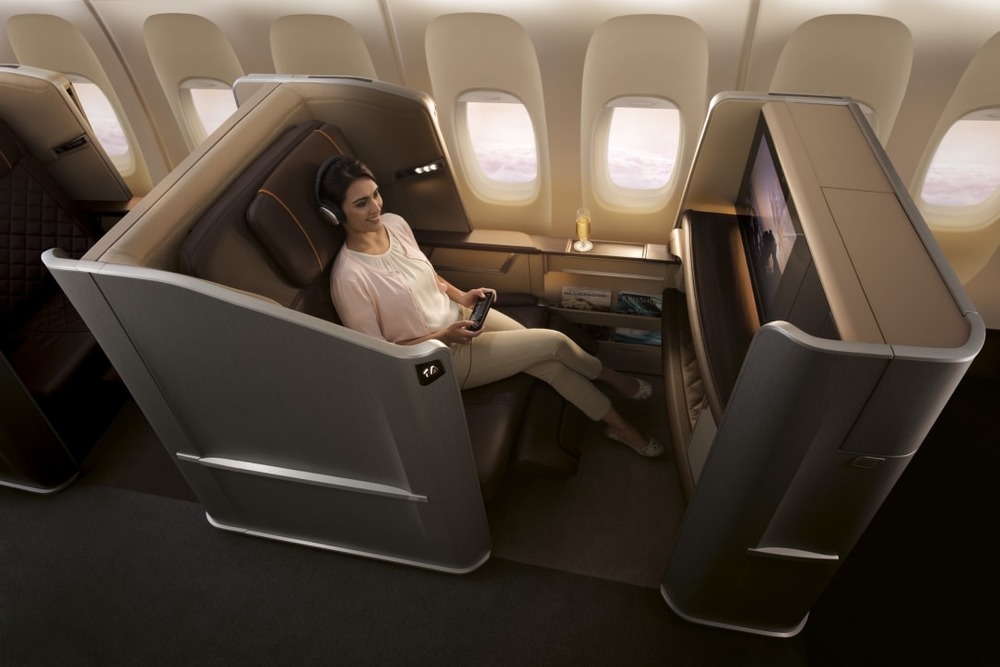 While Singapore Airlines may lack the on board lounges that both Emirates and Etihad boast, Singapore Airlines makes up for it in many other areas. If you fly from London to Sydney you'll get there on an A380 and Boeing 777 with a layover in Singapore, and both aircraft types are equipped with great seats.
Their A380 business class seat is by far the widest of all airlines flying the London to Sydney route. When the time comes to eat, Singapore's Book the Cook service will give you access to a spectacular array of cooked-to-order dishes that wouldn't be out of place in a fancy restaurant.
Furthermore, the Krisworld entertainment system offers a wide selection of entertainment options, all brilliantly displayed on a large 15.4 inch screen. The highly responsive service provided by the experienced attendants of Singapore Airlines pulls it all together, making this carrier a fine choice for business travelers headed to Sydney.
British Airways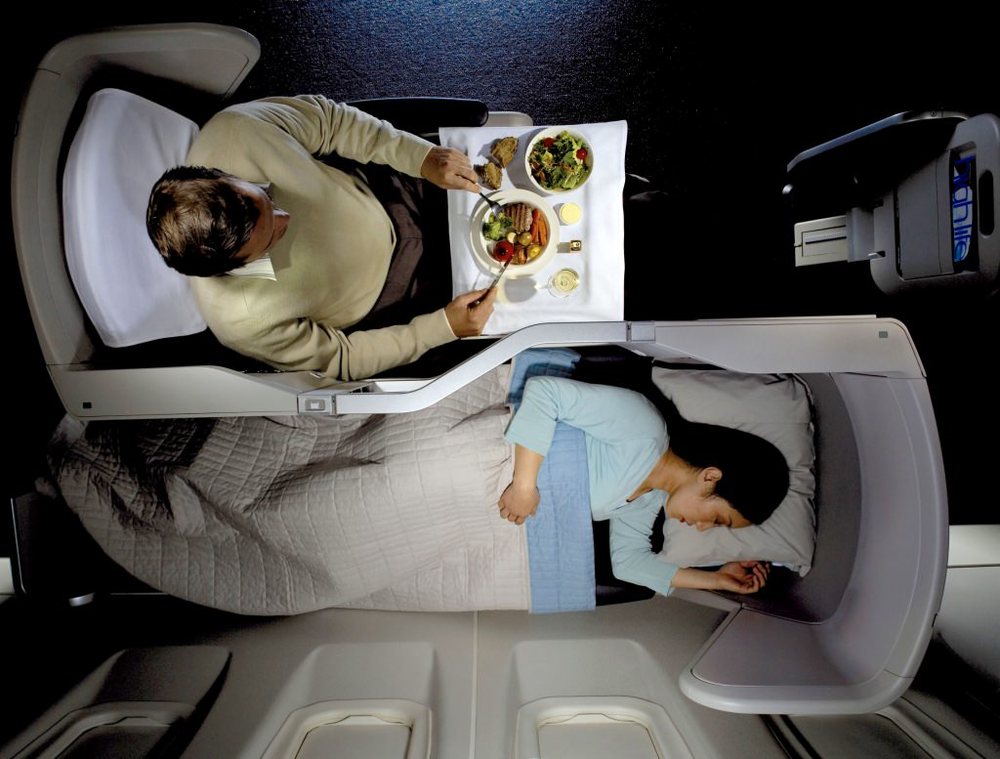 Does BA have the best business class to Australia? Those wanting to stick with British Airways will be surprised find their business class offerings have done an admirable job keeping up with other carriers.
Its seat is 20 inches wide and offers plenty of leg room, accommodating most people comfortably. A privacy screen will give you the personal space you require, and when it is time to eat, there are a wide selection of British standards available.
However, the business class feature that stands out the most is the Club World kitchen. If you find yourself craving a snack between meals, you can get up and help yourself to a variety of sandwiches, cookies, crisps, and beverages, alcoholic and otherwise.
Bottom line – you'll be pleased with the business class service on any of the above options. To book your business class flights to Australia just call a SkyClub representative who'll be able to supply you with the very best airfare available. If you're having trouble choosing, we'll be able to inform you of any exclusive offers and upgrades for your journey. And we would love to hear your feedback on which airlines have the best business class to Australia from London. G'day! 
Further Reading: